Brought to you by The Designers Institute of New Zealand, The Best Design Awards is an annual showcase of excellence in graphic, spatial, product, digital and motion design along with three special awards - Value of Design, Public Good and Toitanga.
The National Graphic Design Awards were established in the mid seventies to celebrate New Zealand's best graphic design. Attracting 300 entries, the awards exhibited 130 works as part of a touring exhibition and lecture series.
In 1988 the name was changed to the New Zealand Best Design Awards and enabled a growing community to benefit from the experience of a jury of international peers.
In 1992 the awards were expanded to include Spatial and Product design.
By 1998 the Best Design Awards became a annual awards programme.

Read More
In 2010, Interactive was established as a distinct discipline. The Ngā Aho Award and Best Effect Award were added in 2012 and Public Good along with Moving Image in 2015. In 2017 the User Experience Award was introduced.
By 2020 Interactive became Digital and User Expereince was merged into digital.
Toitanga was introduced in 2020.
The Gold Pin is coveted under each category as best in category, but its the very best piece of design in each discipline that is given the supreme Purple Pin and held up as work that raises the bar of New Zealand design.
Black Pin
Each year, the prestigious Black Pins are awarded to individuals for outstanding achievement.
The John Britten Black Pin is awarded to a designer for their leadership, vision and achievement both in New Zealand and internationally.
The Designers Institute Black Pin is awarded to a member of the Institute who has made a lasting and valuable contribution to the design profession and design culture in New Zealand.
The Value of Design Black Pin is awarded to a company that champions the power of good design to create massive impact.
2020
Jonathan Custance
Designers Institute Black Pin
Q: Were you predisposed to a career in design?
JC: I was… my father was a design engineer and he built an engineering business that grew out of a furniture manufacturing business that he purchased in Hawkes Bay. As a teenager I remember working in the factory, building furniture, learning a bit of engineering.
I also remember at the age of 16 going up to the annual general meeting of the Society of Industrial Designers and meeting people like Rudi Schwarz who was the foremost furniture designer at the time… so that was my early exposure to the industry.
Q: What sort of furniture was your father making?
JC: It wasn't very contemporary, He focused on building the engineering side which ended up being a specialist in the country, for material handling equipment; things like electronically controlled conveyors. In terms of furniture they were bed makers and dining furniture but that sort of tapered off as the engineering side grew.
Q: What were your early memories of visiting that factory?JC: I was fascinated with all the machines and built up the skills as a teenager to run some of those. I was helping the cabinet makers with processing which I think exposed me to the practicality of materials and how things go together.
Q: Did you then train in something similar?
JC: Well... I had to tell the career advisor at my high school that there was a thing called the School of Design in Wellington! At first I was going to do architecture but during the last two years of secondary school I changed my mind and decided to go into industrial design.
Q: Following in your father's footsteps or...?
JC: Largely because I enjoy building things and it seemed to be more craft oriented, more hands on rather than sitting in an office with a white shirt and tie in an architecture practice. So that degree sort of set me on the path.
Q: Where did you study and how would you describe your alma mater?
JC: I did industrial design at the Wellington School. It was the only place where you could study design - other than architecture – in Auckland. James Coe was the head of that institution and he was the founder of ergonomics in this country. That was a critical component. The industrial design course was quite diverse as industrial design is in a sense. It covered product, consumer design, ergonomic work, exhibitions, probably touched on the interiors side, a bit of retail.
At that stage it was mostly the Fisher and Paykels who were engaged in employing graduates. In other words there wasn't a lot of jobs. I mean, if you think about it, mine was a class of 15 per annum that went through and probably half of those dropped out!
Q: What made you want to go into such an obscure field?
JC: Let's back up a little… I had another very strong influence, in my second year of design school, I went to live with Ian and Clare Athfield. That exposed me to a whole new architectural side since he was everything that the profession wasn't in general. He was an artisan, he was a builder, a creator, in that sense, and was probably one of the most revolutionary architects in the last hundred years in New Zealand. Revolutionary relative to, one: spatial manipulation, and, two: his social convictions relative to how space can affect people's lives and their behaviour. So I had that as a very strong influence over a series of years.
Q: How did that come about and did you work for Athfields?JC:. What happened was that for my second year of school, after the hostel, I questioned …What do I do, go flatting? What are the other options? So I came up with the idea of trying to go and live with a designer and his family. Mainly to understand how design fits into that family dynamic. There used to be an Industrial Design Council of New Zealand, which had a magazine called Designscape. The first design magazine available here. I put an ad in that magazine, saying 'industrial design student looking to board with a designer and his family'.
Q: Any bites?
JC: The editor rang me up one day and said: "I've just had a call from Ian Athfield, he saw your ad and he's interested in meeting you!"
Ironically, after I had placed the advert and while waiting for it to be printed, I had come up with another solution. I created another living environment: rather than everybody going and having one bedroom each, and having their whole world in that bedroom, the idea was that we would all sleep in one large room, have a spare room for other activities, have a library, have a studio and have a kitchen and just, I suppose I was wanting to shift normal habitats of living in a flat. Living and sharing was to take on a different structure than just flatting.
I talked about the idea and I had a group of people that wanted to join me from the hostel but then Ian Ahtfield came along, and mentioned that what he wanted to do in his home, where the office was functioning, was to increase the living headcount into more of a community. So here was the space, physically, that enabled my thinking.
Q: So you moved into Ath's?
JC: Yes, I was the first to move in and then basically a commune was started.
Q: That's fascinating! How long did you live there and what do you think you gained form that experienced which influenced your career?
JC: A couple of years and some fast growing up. I was largely with people that were 10-15yrs older and with children, so I matured rapidly from 19 to 40 in the space of 2 years... well around relationships , child raising and running a household anyway. All pretty demanding emotionally but so insightful. It was like a speeded up prototype run to my later real life journey but of course created an understanding of who I was and what I wanted in life. The Athfields have remained very close family to today, Ath has gone but I still spend time with Clare.
View from Jonathan's bedroom in Athfield house. Jonathan was 19 years of age and in 2nd year at university.
Q: Fast forward to post-graduation: you didn't end up at Fisher & Paykel, right?
JC: No, I had a year out after my third study year and went to Europe, not working, just travelling and looked at everything, from furniture fairs to museums to cities. So when I came back I did my thesis year, because it was a four year course and I came out deciding that I wanted to go into workplace design.
Q: That discipline would have been a very new thing back then, right?
JC: Well, it didn't exist. I then basically spent three months in Wellington, interviewing people to find out where that industry was, who was in that potential space: from builders to suppliers, the furniture makers, to architects, to construction companies, to real estate agents even to stationery shops that sell furniture.
Q: Why did you choose workplace design?
JC: We spend such a majority of our time at work, that I thought, how could design help in that environment, how can it be improved? That was the key driver.
The other aspect that I saw and liked was the project cycle. If you're designing a consumer product you might work on it for five years, whereas, doing a fit-out, the cycle from conception to manifestation was shorter and a good rhythm for me.
Q: How did your industrial design focus affect your work as an interior designer?
JC:. There are two fundamental things that change across different spatial disciples: one is scale and the second is materials/connection /processes. What I've found is that the process of thinking, the process of design-thinking, or the problem solving analysis of industrial design training can be applied to all…. that's the pinnacle of it all.
The black box processor, part of that is background, part of its inquisitiveness, part training and all one's experiences. That can be applied to the different scales and different disciplines. So the commonality: my design thinking process.
That process is both understanding the problems presented then creatively finding the solution. In a way, it's all problem solving, and I think that's been the strength of having an industrial design training, as opposed to training in interiors or even architecture. Because often architects miss that point too.
And then it's a case of just building up a knowledge of the materials you use, and the issues associated with it. A consumer product is a different ballgame from a building, which needs to relate to a site, the elements, it's got to be waterproof, it's got a long life structure. But again, you come through, a building is only made up of components. So, my industrial design background and interest in product design, can manifest itself in architecture.
Q: That sounds like the sort of thinking that lead to design consultancy?
JC: There were no spatial design consultancies when I started out. Commercial architects largely dealt with the building and not what went inside. Builders and as I mentioned, stationery suppliers ended up providing and selling the componentry that went into an interior.
So design is an increment on the manufacturing process. And I always say that we only have a job if we can provide incremental thinking, conceptually, or material use and componentry, if we don't have that edge and a builder can come along and whack out the same thing he did last time, then we're out of work!
So, if you think about it, the market was sort of static: just doing the same, and no one was delivering the physical manifestation of what offices are about. Until we got to the 80s Boom and basically, there was an appetite and a worldly exposure to doing better. With that appetite, with the 80s corporate stock market, awareness and people traveling and so forth suddenly, there was an appetite for something different.
I was one of probably six key players in the supply market, designers in supply companies that left those companies and established the first interior design consultancies.
Q: Back in those days, the individual offices within a large workplace still ruled.
JC: There were three major suppliers, which were manufacturing open plan office furniture under license from international companies. One was from England, which was Hille - and I worked for that company. And the other two were Westinghouse, and Knoll from the states. We were the key instigators to the open plan movement here.
Q: What was your logic behind that?
JC: Well, effectively, the problems are no different today than they were back then. There were cellular offices, which had no flexibility, everybody was isolated, and they weren't communicating well with each other, organisations were churning or growing or shrinking, and the environment didn't adapt to that. So, open-plan came in with panel systems, so you could reconfigure your desking and storage in a flexible manner.
Q: Can you think of a key project that illustrates the evolution of workplace or your own thinking about workplace?JC: My design consultancy started in 85 and we won our first award in 91, which was for the Housing Corporation in Porirua. That was in an environment where I just basically came up with a completely different planning concept, which again, was observing what was the functionality, who were the customers coming there, what was their state of mind. Some were paying rent, others had serious issues to resolve around conflict, so we were looking at the customer experience for all the different interactions.
I looked at where the staff are what they needed to have a better interaction and rather than having a big long counter where, maybe a mother comes out with three kids, one's got a snotty nose, another is crying, she hasn't been able to pay the rent, she's got to have a conversation next to somebody standing a meter away talking about another issue. I just broke all that up.
Put a playpen in with a fish tank so the kids could be fascinated, had a zone where the mother could deal with that and then I gave privacy and barrier. I created a transition zone through that, with six different settings, you have to deal with different circumstances. That just gave a much better congenial solution to that interaction. You could call it ABW [ the same principles of Activity Based Working….what setting and tools are best created to the task or interaction at hand.]
So that was significant from a planning point of view. But the other key thing that contributed to us taking the awards was that we managed to capture multicultural qualities.
I wanted somebody to walk in from Tonga and say: 'This is me!'. Or a European coming in and saying, 'well, this is me too'. So it was quite critical on how we created the form, the materials used and detailing to give a less than token cultural favour, but to feel the space fully from each cultural perspective, with historic reference.
Q: You've also been a stalwart of design at a policy/strategic level for many years. What got you involved with that?
JC: There are two fronts that I've been active in. One is that when I started Custance in Wellington, I started the Wellington branch of the New Zealand Society of industrial designers and became a committee member there, drove activities for getting people together there but I was often working in Auckland, too. So I had the connection with the Auckland members. It was then I realised that to get the voice of design into the marketplace, we needed to basically go to a larger group of designers.
At the time I was also a member of the Association of Interior Designers in Auckland and thought that what we needed to do was to merge and be one stronger voice. So I was the instigator of the concept of forming the Designers Institute of New Zealand. I brokered between the Association of Interior Designers - which had people like Hugh Mulane, Mike Thorburn, Nannette Cameron - and the Society of industrial Designers made up of product design or industrial design, and graphic designers.
Q: And the main purpose of those two organizations was advocating at government level or plainly bringing people together?
JC: Mainly for a voice to industry first off, we weren't probably at the government level, though that was in our sights. But what we did want to do was just strengthen the message of what design could contribute. And if we're a bigger organization, we could then get a secretariat rather than be on a volunteering basis. So you'd start to get publications out, you start getting awards programs running, etc. So we just evolved through that process.
Then my next driving role was really around the task force and going to central government to get funding.
Q: How were those early discussions with government like?JC: They were very favourable - It was Helen Clark's era. We put a taskforce together and drove a paper to government to ask for $12.5million under the GIF fund.
The sell was that enabling manufacturers to engage with the design process could improve our exports. So it's a case of bringing our product up to an international standard to sell offshore. It was about using design as an enabler to grow exports. And we set the task of creating half a billion of additional export over five years for the $12.5 million we asked for.
They gave us a caveat to say we had to work, although independently, under the umbrella of Trade and Enterprise [NZTE]. It was an interesting model, and I think it was a successful model in that we had a private board [ I was one of seven members], then we had NZTE administration staff, then we had private sector advisors at the coal face auditing the companies So NZTE was just in the middle there. We set the policy and direction and we brought designers in as advisors with their market experience, not just bureaucrats. To cut a long story short, we ended up being audited and we achieved those goals.
Q: You would have also experienced a lot of peaks and troughs throughout your career. What is your view on where the industry might see itself in a post COVID world?
JC: I have dealt with some major troughs and they have all been expensive and what you might lose in a year might take three to four to get back. The GFC cost me $300K, effectively not having a salary for 3 years. I worked hard to try and keep everybody on but we halved over that three years. Since then, we haven't grown the NZ team in numbers only the Sydney office has got back to a dozen. When Covid came I decided I wasn't going to go there again!
Q: How is this one different?
JC: We had the financial crash of 87, property crash of 89, economic tip point of 92, the Asian crisis of 97-98 which was a bit of a dip and then the GFC… now we have COVID. Throughout those, the economy of NZ has become far deeper and more stable. We have been lucky globally. I am optimistic about NZ's depth of the economy, how we handled it, but in terms of the rest of the world, that hasn't hit yet. I am still optimistic by nature but far more cautious these days.
Q: Did you make any changes at Custance?
JC: I had a lease coming up so I decided not to sign up for another five years. I pulled the office and staff on to our private rural estate. It saves $60-70 thousand a year which are better off in wages. It reduced my liabilities, keeps me agile. I also realised that I left in and returned in darkness for half the year to a property we have spent 20 years planting and developing….. I really enjoyed it in lockdown, and the team now travel to the studio in a short time than heading to the CBD. It means that if we do semi-lockdowns our bubble is isolated. We enjoy having lunch in the garden, it's a picturesque setting on a cliff facing north across the Pauatahanui harbour to rural hills. Nice afternoons… we go for a walk, then work later.
Q: What is the future of workplaces in a post-COVID world?JC: There will be a reduction of square meterage across the board. Some people have gone overboard, like I have a client at the moment who has 17,000m2 and has decided they only need 8000m2 because there is not that many people coming in. I think the answer is in the middle. COVID has cemented remote working.
We will occupy less square meterage, we will be utilising those m2 completely differently, there is a fantastic opportunity for design: what is more critical is the power of that space in cohesion with the culture/story /purpose and business drivers/caring of those people. People need social interaction for their work and their emotional well-being.
Custance home studio 2021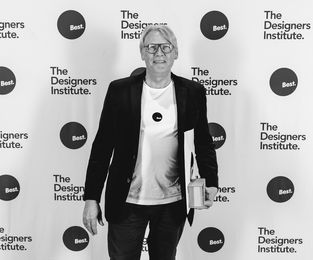 2020
Liz and Neville Findlay
John Britten Black Pin
In 2020 this Black Pin was given to Liz and Neville Findlay, founders of fashion label Zambesi. We spoke to them about the journey so far.
Q: Liz, so you came to New Zealand from Greece?
Liz Findlay (LF): Yes. I was born in Greece and my older brother as well. My mother is Greek, but she was born and brought up in Russia. My father was Ukrainian and they met in Germany towards the end of the war. My family immigrated to New Zealand in 1951 on a vessel called the Goya.
Q: So… what language did you speak at home?
LF: My parents wanted to learn English, so although we learnt some basic Greek and Russian we were encouraged to speak English. I can still understand a few words. We have a few Russian and Ukrainian staff at our workroom so it feels a little familiar hearing them speak to one another.
Q: It is quite a multicultural office.
Neville Findlay (NF)
Yeah, very much so!
LF: I think the thing with language is that if you're not using it in your home or in your workplace, you know, you don't retain it. Maybe if I had married a Russian or Greek, life with language would be different, but I didn't!

NF: Instead, you ended up with a Syrian Scot!
LF: Our girls are a real mixture!
Q: Do you think that internationalism in any way colours your output as a creative?
LF: I don't think you consciously do that. I think that it's probably just inherent. My grandfather was a shoe maker in Russia so maybe it was in the genes! When we moved to Dunedin from Central Otago – my mother went to work for a local designer, as a seamstress. She loved making clothes and was very creative. She would manipulate patterns, make all our clothes and taught us all to sew. So, it could be that generation did make their own clothes and were used to doing it for themselves. So, that creative thing, I think, was encouraged by both my parents.
NF: It was born of necessity. They would do and make everything, it was part of the culture.
Q: Were you interested in a career in fashion from an early age?
LF: It did not enter my mind as a career at a young age. I loved being around fashion, fashion shows, fashion magazines etc. I loved being around clothes and dressing up. I loved sneaking into my mother's wardrobe and drawers when she was out and trying on all her clothes, shoes and jewellery. I do not know whether she realised at the time but she never said. I was fascinated by her choices and everything was beautifully folded and boxed. My mother had a passion for clothes and was always making garments for us. She had this wonderful, big, travelling chest that had come to New Zealand with us in 1951 and it was always full of remnants. So we were often taking from and adding to that treasure trove of fabrics, making something to wear and buying remnants of fabric from our favourite store Penroses in Dunedin. We were taught to sew by our mother who was very particular and adept at manipulating patterns and a seamstress by trade. I think it was her passion that rubbed off on me. It was more about putting them on my back and not really on anyone else's at that stage.
Q: Were you already playing around with your own designs and developing your own style at that stage?
LF: I think I had a particular style and loved mixing things up.
NF: But you already had a contemporary bent rather than a classical bent, didn't you? I remember you always wanted to shop at the latest boutiques.
LF: Oh, yeah, but I loved vintage too and classics that could be twisted a little.
Q: Were fashion brands and labels that big of a deal back then?
LF: Well... yes, there were a lot of boutiques and stores with their own brands and I think there has always been a market for fashion on many levels. There were hardly any imports because duties were so high and local manufacturing was protected. This allowed the industry to grow and develop without a lot of competition.
There were also a lot of boutiques around when I started. Really unique. They were all very individual in their presentation and environment. Very authentic. I feel like there is a return to that now.
Q: So what was your first 'industry' job.
LF: I guess my first introduction to the industry was working for a company in Auckland in the office of Derek Batts, a clothing manufacturer and wholesale brand. I got in through the admin, of course, because that was where, you know, my skills were. But then I asked if I could go through to production. I was fortunate enough to be given this opportunity and I learnt a great deal from a planning point of view and learnt to operate industrial machines. I then went on to work in a retail environment and a fabric importer and lastly in a small workroom with a very creative team and this was very inspirational. These varied roles have been invaluable to me in my career and I am sure that the experiences and education in the industry have laid a good foundation for my role at Zambesi.
Q: And when did you arrive at that moment when you said 'I want to do my own thing'?
LF: Oh, well, actually, I have probably never arrived at that moment! [laughter] Looking back it seemed inevitable. Neville and his friends used to say: 'you always look so different, the way you put things together! Why don't you do your own thing? Why don't you start your own label? And then we went... 'oh, OK,' so we started thinking about it seriously.
NF: That came along with the desire to maybe own a little boutique for starters. There was that retail side and the creative side.
LF: Yeah, I think it was just a very natural evolution, if you like, it was an organic kind of thing. So we decided to take on a space that was called 'Rhubarb' in Parnell Village and we changed the name to 'Tart' because that whole area had all these weird 70s names like: 'Roots, Shoots and Leaves' (a plant shop) [Laughter] Can you imagine?! And another called 'So to Bed' (an antique shop) and 'Snatch Factory' which was a knitwear shop. Yeah…. so we were Tart! We opened in 1976.
Q: Sounds very 70s indeed! What was your business model?LF: I used to go and buy all the brands that I liked, and sell them. And then I started making pieces that I felt we were missing. So I kind of started very slowly. We retailed for about three, four years and a couple of the brands we were buying were opening their own stores and didn't want to supply us anymore. So, we thought, well... how do we protect what we're doing? And that would be creating our own brand. When we established Zambesi in 1979 it was to create an identity that represented our philosophy of strength, beauty and independence.
Q: Is that when you guys started thinking about interior design and how a physical space could represent the garments.
NF: The first couple of stores were pretty nondescript mainly because we didn't have any money. When we went to Vulcan lane is when we decided we were going to do a number.

LF: It coincided with Neville having decided to leave his job.
Q: What was your job at that time?
NF: I was an automotive product designer, I had a pretty responsible job at a young age and designed a factory that built exhaust systems for cars. We just used to make the componentry like air filters, oil filters, mufflers, all that sort of thing.
Q: Is that where your passion for cars started?
NF: Oh no, it started well before that! I luckily got into a job that I was interested in. So I sort of ended up running one of the group companies and I set up an industrial filtration division within this company. So, I had a nice little career going on.
Q: Quite a daring move then to just sort of quit that and move into a budding fashion label?
LF: It was kind of the right move, at the time. Have you regretted it?
NF: No. Not at all!
LF:That's good. You could always start up again and get a really good job!
NF: From my perspective, I was ready to move because I sort of moved into that sort of management side of it, and I wasn't doing so much of my hands-on design, and I didn't really enjoy that as much. And I thought... I would rather get back to doing something, you know,
LF: Rather than sitting around the boardroom!
Q: And the rest is history! Any tips on how to build a long-lasting, family business in the creative industries?
NF: Making your own rules. I think we made it up as we went along.

LF: But also, it was never about who was getting the credit for anything or who did this job and who did that job. I think we're really lucky in that our personalities fit the job and Neville has always been incredibly supportive and generous giving me the freedom to do what I believe in. He's never tried to step in or change it.
NF: We've always worked the brand forward. We've also tried to stay away from being market-led but more design-led. So it's never been like chasing the big numbers, it's been more about doing something individual and creative.
LF: Yes, our motivation wasn't about making money, even though... we desperately needed some! [laughter] I think we just let it grow organically. We started working from home with one staff [member], and then it was two, and then we opened our first workroom.
NF: We went into Australia, which was kind of a tough market.
LF:Yes, it was. We're not saying that this is how it should be done. It's just the way that we've done it, and grown it and become proud of it, I suppose. For us the integrity behind what we do and being authentic and being honest about it, and not trying to oversell ourselves, that's been really important for us. Now, of course, you know, you're confronted with this whole social media marketing thing, which I struggle with, to be honest. But luckily, our daughters are involved with us, and they both are very creative and bring fresh ideas to the table. We are blessed to have them work with us presenting shows, videos and images and taking care of social media.
Q: You guys have created a very distinct brand. Was it something that you consciously defined?
LF: I don't think we've ever really had a strategy or a plan. The first few years I was probably experimenting and creating an identity without trying to do that. You slowly start editing your own work, and you start leaving out the things that you're not happy with, or you want to move on from and focus on the work that really attracts you.
Q: Like black.
LF: Yes, I've always loved black because you know, we wear a lot of it, so that has become the kind of backbone, I guess, of the brand. People always go 'but you only do black!' And no, we don't, we actually do other colours, but black seems to be our signature. Black is never just black to me! It has depth and layers and textures.
NF: I always compare it to black and white photography. You can see a lot more in a black and white photography: the texture, the light, the graininess, all those sorts of things. I think that that is why black clothes have an appeal to a lot of people.
LF: Another part of that brand aspect is that people always feel like they have ownership of it in a way. Somehow you feel like it belongs to you and I think it is because they connect with us through our interiors, our shows, our music. All those things contribute to the identity of the brand and the way that people perceive the brand.
NF: Also because we leave, you know, we leave a little bit out. Like we don't try and define the way people dress, we create a vehicle for them to become the stylist rather than us pushing an entire look or series of looks. They get a lot of joy and buy-in from doing that. Quite often Liz will see someone wearing something she designed and think 'wow I didn't think of styling it like that!'
Q: Do you outsource any of the components of the business?NF: We do everything in-house and sometimes it's a little bit naive, and we ask: can we get away with it? And I think because it's fully 'ours' people accept it, because it's the Zambesi way. Like, totally, we try and do everything from our graphic design, to interior design, show design, styling etc.
LF: And by that, we mean our creative team. We have a menswear designer and a womenswear design assistant to me and an incredibly skilled workforce and creative team. The process from design to production and completion is in house. So it's kind of a team effort, a family effort, in many ways that's what is underpinning the longevity of the brand.
Q: How would you describe your customer? Like, if you had to imagine a demographic or an 'avatar'.
LF: Individual and confident. Someone once said to me that we're like little tribes, you know, I belong to your tribe, because of the way that we dress and I love what you do, and I wear it. So that's, you know, like, without meaning to or thinking about it, you do create these kinds of cults or clubs or followings.
Q: Which have the same music, similar dress styles...
LF: Yeah, we enjoy the same things. You know, we were drawn to the same kind of architecture or art or film. Yeah, all of that stuff, but you don't set out to try and capture that.
Q: Has being 'Made in New Zealand' a contributing factor to that success? Has local culture given Zambesi something you wouldn't have gotten anywhere else?
LF: Well, I wonder whether we would ever have done anything like this anywhere else. I think what New Zealand offers us this amazing freedom, you're not...
NF: Daunted?
LF: Yes, daunted by fashion history. People used to say 'why don't you and your brand go to Paris?' and we did and have done our stint offshore. However, we have come back to our comfort zone and are not concerned with making it anywhere but here! On-line of course has changed things!
Q: But you did end up going to Australia though.
LF: We had retail stores in Sydney and Melbourne for 25 years and we still wholesale in Australia. When we opened in Sydney we opened a small store in the beginning and then gravitated to this amazing space, a ballroom. Five years later we found out no one wants to go up in a lift to the ballroom!
NF: It was a difficult task to break into that market. We succeeded but it had to do with the fact that they saw us as disruptive, they were weary.
LF: I remember when we first went to a client meeting there, one of them looked at our clothes and said "Where is the pink?" [LAUGHTER]. Trend of the season?
NF: It was a bit like 'what are you doing here?!'
LF: It was the first time I thought 'ohhh, this could be fun'!
NF: We did win them over in the end.
Q: Have there been any key disruptors to your industry during the years that you've been in the business?
NF: Covid and online shopping!
LF: You could say online shopping was a little bit disruptive in the beginning, because, like, we've been buying imports, you know, for many years, like Margiela and Rick Owens and all the brands that we like... Raf Simons… and we used to have them delivered at the right time for our season. We used to delay it so that the summer collection from Europe arrived in our summer. Online shopping has changed all that. Now we need to have it at the same time as it's up online but it has to suit our climate as well. So it has been disruptive but it's also been something we've had to make work for us.
Q: You pulled out of Australia recently… is there a future in brick and mortar?
NF: For us it is essential.
LF: Like me, some people need to touch and feel. We have a lot of clients that want to try it on, see it on themselves, get your opinion. Online shopping doesn't do that for you.
NF: It has to be an inspirational experience.
LF: In saying that, we have shrunk the number of shops that we used to have. I don't think you need as many anymore.
NF: We are doing quite well online so it doesn't feel like we need three stores in Auckland anymore.
Q: How do you keep coming up with new ideas after so many years in business, what are your techniques for maintaining creativity flowing.
LF: I don't know… a lot of it is the team. They stimulate me as well and they are very inspirational. They believe in the brand and they get excited when things are going well.
We try more and more to involve them in our processes. For a long time it was a lot about me, and what I wanted to do and how it got done… and it is still a little like that but now we get feedback from stores, from online and [our daughter] Marissa is a photographer and works closely with the stores and fashion week and our PR and social media and Sophie looks after the website, graphic design and music direction and [both daughters] whom we are incredibly proud of keep us grounded and on our game. They are very involved with that part of the business which has made us rethink how we really need to be quite open to our 'Zam-fam' as we call them, and what they bring to the table as well.
Q: You have also mentored or helped the careers of many amazing designers in the industry who went on to make their own brands…
LF: People move around because they are exploring. I did that, I worked in the industry in many different areas. We have had some great people come through our doors and go on to do their own thing.
Q: You don't feel there is a tug-o-war between mentoring and helping people grow but also keeping that talent within your stable?
LF: No, because if you start freaking out about someone else's creative talent vs yours, then it becomes a competitive thing and I don't think that way. Even with our peers and other brands… everyone is unique. Everyone who has worked here has contributed to Zambesi but understands the brand… it has always been about our brand and even if they leave to do their own thing, even if it is similar, it is still not ours, it is theirs.

NF: If you think of someone like Murray [Crane] for example, he went on to do suits. Nothing to do with Zambesi.
Q: What excites you about the NZ fashion scene at the moment?
LF: It's got a great future. What we need to ensure is that we can manufacture here if we wish to. We are NZ made and we want to keep it that way. Not to say that we will never manufacture offshore.… At this stage, there is no plan to do that, but to encourage the new generation there needs to be that infrastructure here to be able to access that.
NF: Covid has almost saved the industry in a way.
LF: You think so?
NF: Yeah, five years prior to that, there had been a real decline in local manufacture and by designers going to China, etc.
LF: I agree I think a lot of designers are coming back to local manufacture, and that is a great thing for them. What we need now is to encourage and improve the skillset, and that is the hard thing. Because our machinists are scarce and I have talked to a few of the design schools and institutions discussing the need to encourage craft because not everyone is going to be a designer. There are so many processes in making clothes that require skilled craftsmen. There is so much satisfaction in creating a beautiful garment and being part of a creative team.
NF: There needs to be more status placed on the artisanal side of making clothes.
LF: Yes, it is not just being able to draw an amazing picture or dream up something in your head because if you did that all day you would never be able to produce all your ideas.
NF: You need a balance of skills.
LF: And we need to encourage creatives who are good with their hands. To make garments and to feel satisfied with that. There is a great future. Look at where it has been in the last 20 years. Look at Fashion Week, that has been encouraging for existing and new designers. Gives them a voice.
Q: A couple of years ago you announced that Zambesi was for sale.
LF: Yes, we announced that pre-Covid. It was Fashion Week 2019. We had a buyer… but then Covid happened and they withdrew.
NF: After that, we thought it was meant to be.
LF: Obviously, Neville and I are getting on but… we still have a lot of energy left, I think! Actually, I love making clothes and am so lucky to still be doing something I love!
NF: There is still a bit in the tank!
Q: So we are not going to see you as a full-time racecar driver anytime soon?
NF: Not full time no, but if I get the call… I'll be ready!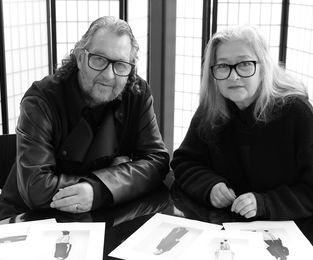 2019
Annie Dow
Designers Institute Black Pin
Hi Annie, shall we take a quick blast through the past before we get around to your thoughts about the present and future? You're originally from the UK, aren't you?
Yes, that's right. Let's just say my father was a big influence in my life. The family immigrated to New Zealand. My father brought engineering, display sign & neon sign skills to the country. He set up his own business, in signs and displays, prominently known back in the 70's,80's and still know today as The Display Group. Whilst my father was a big influence to me, he was also a very traditional, old school thinking Englishman. In his mind, my brothers who were in the business as myself , were going to be the ones that were left the assest. One day I proposed that I'd like a slice of the action as well. He wouldn't have a bar of it. As much as I loved him, that was an archaic & unjust mentality. I certainly wasn't hanging around as second fiddle, so I bailed for the classic o/s trip.
Sounds like an early crack at smashing the patriarchy. What happened next?
I hightailed it back to the UK, and then started to freelance at legendary studios like Pentagram. I worked at Billy Blue in Sydney on the journey over. I really started to gather experience and a love of a 3D, working with my father and other design studios, specialising in this discipline. The experience of designing display stands and rendering visuals for cosmetic companies, designing packaged consumer goods and making mock ups, I started to feel very at home. I have never rated myself as a strong designer, but I've always had the vision of what something should look like, how it should fit into it's world it will live in. Someone once told me, I had the art of a distinct intuition & a great mind, mixing logic & the design magic – an understanding of commercial reality in branding. Packaging suddenly became my new love in London.
What appealed to you about it?
I loved that you had a small space to work with, like a mini poster, that's a silent sales tool. That's where my commercial brain kicked in. I came back to New Zealand, as my father was turning 70 – the main motivation to return home. I am not sure I intended to stay here. However other things were in store for me. Within a week of being here, I met the late Greg Dow and my heart & life took a big turn.
Greg had been in the advertising world and we certainly had a great deal in common. I mentioned to him once, how no many design companies were focused on FMCG in NZ and it was a true speciality in the UK & Europe. It's a love I've kind of adopted from the UK. Greg loved any challenge and so seeing the gap I had identified, Dow Design was born. We both had different skills to bring to the business partnership, never once questioning working & living together.
And what were they like those early days? We must be in the early'90s, right?
Greg and I were very competitive together. For us it was the chase of building great business relationships. I did design in the early days but as we got a reputation and busier, I quickly got off the tools and we hired designers, way more talented than me. We became well known for as packaging designers and word quickly spread. We had the lion's share of the big accounts. Heinz Watties, Tegel, NZ Dairy Foods, (formerly Fonterra) Cerebos Greggs, Hellers & DB…..to name a few. This was the halcyon days in the design & advertising world. Things were buzzing, marketing teams were large and we continued to add further skills & processes to our business offer.
When did Greg pass away?
Greg passed away in 2007. At that time, we were in the middle of due diligence to sell to an American company. It promised to be a great deal – had Greg not died, I would be telling a different story today.
Greg was a property investor on the side, but this had became his passion. He liked to renovate old villas, so I imagine with a business sale and renovating houses, it would all look different. However the sale got taken off the table for a year and then the GFC hit. When the deal came back it looked very different and by then I had decided then I still had a passion for the business and walked away from the sale. For me, it was about having a purpose. And here I am today. I created Brother Design, a secondary arm, as we won the Foodstuffs Pam's account. Brother continues today and have built their own reputation, as my sister business. I acquired Goodfolk, as a digital arm and rebranded to Dow Goodfolk.
Would you describe yourself as reasonably nimble then, with an ability to change focus quickly and take opportunities where you perceive them?
We are very nimble, through adversity and many challenges thrown at me, I have learnt to embrace change.. Greg in the office, right in front of me, that is something that you never get over, but you learn to live through. I've had to learn very quickly to reset, restructure & reposition many times in life. I believe one thing that stands our business in good stead is we have a very acute balance of commerce and design.
To rewind a little – you said that you're not the world's best designer, but the understanding of what design is has broadened out. Design is also assembling teams, putting the right people together.
That's the thing for me. I know my capabilities. I think I have learnt to be an incredible negotiator. I also think that in this game you have to have a hell of a lot of integrity in the New Zealand design market. I think you have to act with good faith. Obviously, you have to deliver great design, but I think you have to value yourself. What I have found is that as an industry, we undervalue what we do. That delivery of value, I think, is really important, and I've seen the design industry commoditise itself to it's detriment.
What do you mean by that?
There are healthy budgets in the rest of the world and I know often due to the size of the country. But my firm belief is we have not helped ourselves in the NZ design scene, by not placing true value on what we create for the NZ business economy.
What else is important, as you reflect Annie?
Reputation to me is very important. Integrity is very important. Delivering design excellence is very important. Being specialised is very important. As I reach another milestone in age next year, I am extremely proud of what I have contributed to the NZ design landscape. I am not ready to hang up the hat just yet, as I thoroughly enjoy what we create and how we build strong NZ brands & businesses. It's a big buzz.
It's interesting that you've seen the highest of the highs and the…
Lowest of the lows, I know. It's really interesting. I still believe that every single project you approach it is critical to get the creative absolutely right for that brand. I don't like it when creative is dumbed down, it frustrates me and so I always try to have that value conversation with clients about, "Don't think short term, think long term. Get it right so that it contributes to building your asset." So many businesses spend so much money setting up production and logistics, their distribution chains, even their franchise models or whatever game they are in – and then they look at creating brand last. Yet brand is the glue that holds it all together.
Why do you think that is? Surely, we've become more intelligent as time goes on, more familiar with the processes required to take a product to market?
I've thought about this a lot. Design has become a very common conversation for so many people, and there are many quick shortcuts to creating brands all at your fingertips via Uncle Google. People often only see the tip of the iceberg. They don't see the strategic foundations well laid beneath. I continually educate people, talking about getting the brand-heart right. Writing the strategy at the very beginning is the most important piece of work.
We talk about what makes a good designer, but what then do you think makes a good client?
A good client is open and can listen. I do feel design is all about people, and the design output is only often as good as the person that's guiding it. They can be anxious of the process, anxious of the money they're going to spend. They might start out the process by going, "But what if I don't like it?" Well, this is why we have aprocess. Remove all subjectivity and it's very objective, very measured.
I do like to have partnerships that truly understand brand. If I look back at the history of the partnerships we've had, they are enduring and many for at least 15-20 years.
I was just thinking about Pam's actually, in these days of click and collect shopping. It's interesting with a brand like Pam's and the journey it's gone on. It's changed so much since the early days of the budget brand.
In the last decade Pam's has grown immensely and is a loved NZ brand. It's a really big part of the Foodie's business. A smart team, when you work with retailers, you learn an awful lot about trading. As a team we have honed our skills even more through these relationships. Its a great point of difference.
Before Covid, I would have asked you for your thoughts on the future, or ambitions, but it is of course more unwritten than normal.
It's really unwritten. We are all asking ourselves the same thing. Live in the now, learn from this experience and become more thoughtful about our approach in business now.
I will forever love and relish the opportunity to build our design community, to build Kiwi exporters that have an authentic brand presence on the global stage.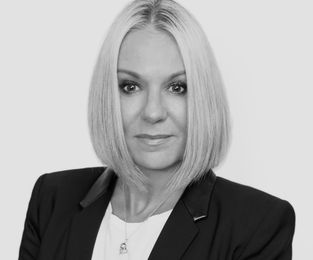 2019
Clive Fugill
John Britten Black Pin
Kia ora Clive, great to see you here at Te Puia. Shall we start at the beginning? What was your childhood like – any carvers in the family?
No. My family background were all bushmen. They worked in the forest. The whole family. They were contractors.
And was that here, in Rotorua?
Yes, around this area. They worked blocks of bush over the back road to Tauranga, through Mangorewa Gorge. Blocks of bush out the back of Ngongotahā. My father worked in the old National Timber Company workings back in the '20s and '30s. Mostly around this area, although later on they did pull bush out of Minginui and up through there. When I was very young, they'd bring firewood home and it was all native stuff, so I learnt native timber pretty quickly and what types of wood were what.
I guess times have changed, regarding what's firewood these days.
Well, the company dissolved a bit because they didn't want to go into pine. They were all about native timber. As soon as the pine came in, my father saw it. He tried to convince my grandfather to go into it, but nobody wanted to, so the company just folded. I learnt a lot from my father. Heck of a lot of stuff from him because he virtually lived in the bush. There's nothing he didn't know about it. He knew all the trees. He knew Māori rongoā, the medicines. I got a lot of his practical knowledge, but I spent time in the woodshed with a pocketknife. That's how I learnt.
Really? Had you been exposed to any carving or seen something that got you going?
Sort of, yes. My first inklings of it were when I was at primary school; they used to bring exhibitions around from the museums. I'd see artefacts, patu and things like that. For some reason, I had a fascination with weaponry. Māori weaponry fascinated me. They had slideshows with all these weapons, and I started drawing them and trying to carve the shapes and forms with a pocketknife. I was very good at art at school, if there was an art prize around, I'd get it.
Other than that, what were you like academically?
I was dumb as a two-bob watch, but there was reason for that. When I was at intermediate school, I started getting these headaches. I'd go home from school and lie down and after a couple of hours it was gone. Father took me to the doctor, Dr More was his name, one of the old school doctors, and he checked me out. "What's wrong with this boy? he said. "I wonder. Come here boy. Read that." I couldn't read any of it. He said, "There's his problem. Get him glasses." I'll never forget the day I walked out that door with glasses on. I could see for miles. Then my schoolwork picked up.
So, your art was eventually applied to different materials, through carving?
I did a little bit of everything because when I was at primary school one of our teachers, Mrs Leach, she was a Māori teacher, too, had a kiln and did pottery. She said, I know where you're coming from, but you have to know this other stuff. I know where your career's going, you'll be doing something in the art field.
Hon. Minister Peeni Henare
When did you start to acquire carving knowledge?
When I was at intermediate school, about 1962. My parents got me some books on Māori carving and some carving tools. I read the books. One thing I did concentrate on when I was at school was reading, one of the teachers said if you can read the whole world will open up in front of you – now I do a lot of reading, heaps.
What do you read?
Anything and everything. I've got a huge collection of Māori books at home that I've collected over the years, and other material as well. I'm just sorting it all out because I'm trying to do an archive here at Te Puia. Anyway, I got onto carving and away I went. It was quite common to see me carrying a tōtara fence post up from the paddock over the back. I'd cut it up and make bits and pieces out of it.
What were your first carving tools?
The first set I got was a set of little tools. They were Miller Falls, America. A set of six. Then my mother gave me a set of flat chisels. I've still got those. Then I started getting pocket money because I used to do souvenir pieces for Paradise Valley's souvenir shop. I'd make these things and they'd come around and buy them all. I had a healthy bank balance, mate. It was better than Dad's.
It sounds like you were quite the young entrepreneur.
I wondered what I was going to school for. In about 1964 we shifted house and my neighbour, Dave Winterburn, who was from Ngāti Raukawa and carved down at the Buried Village, was talking to dad over the fence one day. He heard this tap, tap, bang, bang, bang going on in the shed and Dad says it's the young fella doing some carving. "What sort of carving? Māori carving. This I've got to see." He hopped over the fence and came and had a look. "It's not bad. I think you want a bit of help mate," he said. "Meet me down at my kitchen Saturday morning, seven o'clock and I'll take you out to the Buried Village."
That was your first supervised go at it?
Yeah, he used to take me out there. I learnt a lot about the business side of things. I started working there. Then at Rotorua Boys High School, which I went to, the stage was all carved and there was an early carving in the front entrance that went right back to the first carving school that was here in the 1930s. John Taiapa's brother, Pine Taiapa went to that school, and they were reviving tribal styles of carving. John and his off-sider, Jim Ruru, carved the whole front of the stage. I used to sit in there and stare at that carving and I'd think, yeah boy, that's what I want to do.
I've seen a photo of it – it's an impressive piece.
Yes. There was another episode in my life, too. I was about nine and we were camping in Dargaville. It was raining cats and dogs. We put the tent up and it was quite miserable. Dad was reading the local rag and it had a story about a private museum. We got in the car and found the place. It was an old homestead this guy had. He'd kicked the two bedrooms out and made it into one room and that was his museum.
What was in it?
Well, you knew you were onto something because as soon as you pulled up there was a small waka on the front lawn and one of those waka kererū, pigeon troughs. So, in we go, and he had a mean collection, one of everything, all the different cloaks, adzes…a huge collection of kauri gum, Māori books. He came out and showed us all these things. He was in his 60s then, this old fella. There were two cabinets in the front of the room, one had tiki, the other had two greenstone mere and a stone patu. He pulled that out and let me have a look at it. I held it in my hand and just, whoa. It had a little chip out of the top of the blade but this thing was so perfect. It was almost jet black. It was unreal.
Dad said this young fella, he's into carving and stuff, so the old fella took us out to his workshop. He did Māori carving and had these filing cabinets with the finest of English carving tools. He put a piece of wood in a vice, drew out all the patterns, carved them and named them. When he finished, he said, "Here, you can have that." I've still got that.
You mentioned John Taiapa before – a well-known carver – how did you meet him and what influence did he have on your career?
Well, going back to old Dave Winterburn. One day there were all these carved barge boards for a meeting house in Dave's basement. John Taiapa and his offsider were working on them for the Hangarau meeting house over home, one of ours, in my tribal area. That's when I first met John. I knew then I wanted to be under this guy. He was the gun.
And that was when you applied to the carving school at Whakarewarewa?
Yes, my first year was 1967. In '65 it had started because of the New Zealand Māori Arts & Crafts Act 1963, which we sit under, they had to have somewhere to administrate it. The government said we're not funding it; you can fund yourselves. And right up to today, we've done that through tourism. That's what's kept the project going all these years. When I came here in '66 there was nothing but the old Ngongataha Post Office. That was the first admin building. By the end of '66, they'd built the admin block and that was the first carving school.
What was it like turning up to school on the first day?
It was good. I was 17 when I came up here to get my application form for the school. Anyway, I applied, and they rejected it, saying you're not Māori. Dad said, "Oh yeah, is that right? Here's his iwi, here's his hapū, here's his all the rest of it." They still didn't believe it, So, they sent somebody from Māori Affairs around to interview me. I showed him all my drawings and carvings and things. I explained what they mean, and he said, "You know more about it than I do, boy." Highly recommended. That went in, and they still bucked it. Dad knew some of the guys on the board too, so he went in and said, "Okay board, just look at this."
This family photo?
Yes, he took that in, and he said, "Righto, you're questioning my Māori background. Here's the go. The little girl there, that's my older sister. This is my mother, his grandmother. That's his great grandmother, his great, great grandmother and that's his great, great, great grandmother. That's the oldest child in each generation spanning five generations. Now, having seen that, have you got one in your fella's family to better it?" Well, of course the answer was no. I got an acceptance letter from the Institute on Christmas Eve 1966. So, I ended up here under John Taiapa and Tuti Tukaokao. He was 2IC and from my own iwi too, a distant relative.
How many students were there at that stage?
There were seven.
When you first started was everyone of comparable skill? Were you all starting from the same place?
I think everybody was sort of…I struggled a little bit because they half-pie picked on me at the time. Didn't realise my tribe was Ngāti Ranginui. We know how to dig in. We taught them that. Taught the colonial troops that lesson at Gate Pā. Because all these guys were at a hostel, they were having a royal time. There was wine, women and song, and parties and everything. I stayed at home and did the study.
Was it all carving?
When you do a diploma, you do a whole lot of other things, including tukutuku work, kōwhaiwhai painting. We'd all gone through all of that. When we graduated in 1969, they announced a special award, an honours award for the top student. Anyway, I'm sitting there thinking well you're not going to get that mate. Next minute they call my name out. It took me a while to digest. Then there was a bit of controversy, a lot of people questioned it. John said, "Hang on a minute. First and foremost, he's not Pākehā. He's Māori just like you. And, the other thing is the guy worked for it.
So, it sounds like discrimination was a recurring theme? You sound quite driven, through.
I was. It was what I wanted to do. I'd made my mind up, that was all. It was a passion. So, these young ones we've got now, I would say to them look for a passion. If you've got a passion in there, you're going to go way ahead. We've got one boy in here now, he's here every day on time, every time. You can set your clock on him. He's just passionate about what he's doing.
After you graduated, what did you do?
I stayed on because I had the opportunity to work under John. The first thing was long weapons. He says, "You haven't made those. Go and cut all this timber out." It's the rātā. "Go bring it all up here." Took all that up. He says, "And, you're going to make a set too. I'll show you how the old fella Iramea taught me." I learnt a lot from him. I started to go in and pester him each day for information. Now those are the only records, my notebooks and other stuff there.
Did your notes inform the book you wrote, Te Toki me te Whao – The Story and Use of Māori Tools?
Yes. I always thought about writing books but because I wasn't an academic success at school, I didn't want the book to be an academic nightmare. I wanted something that everybody could use, from primary school to university, and be easily understood. Like my brother, he doesn't know anything about this at all. He got the book, read it and said he understood every single thing. I'm on a second book now, on carving.
How's that going?
It's a bit more difficult. You've got to be careful not to regurgitate everything else that's been done. There's that much written on carving but the biggest problem is that the authors aren't carvers, they're academics. They've probably never picked up a chisel in their lives. I'm coming from the hands-on perspective of a carver – and ironing out a lot of the boo boos they've come up with that don't make sense.
What sort of reference material do you have?
I've got a huge collection of books. I didn't have to go anywhere. I just go up to the room, pull the books out I needed. I've got a huge collection of artefacts like adzes that I've collected over the years. If want anything get the thing, draw it all out.
Celebrating with Clive Fugill the NZ Māori Arts & Crafts Institute (NZMACI), Andrew Baker and Anzac Tasker.
Sounds like you might need to knock out a wall at home and create a little museum. So, what do you reckon, having seen people coming in and out of here; do you notice generational shifts or is it mostly a constant?
It was a little bit different in my time. The guys you're getting in here now, a lot of them have been brought up with a Te Reo and tribal history background. Some of them are quite knowledgeable. Some have been carving before. Some have never carved, and you get to know them and get to know which areas to concentrate on. A good teacher, John told me that, is one that will identify the good carvers, the ones that are not so good, and the ones that are struggling. The good carvers that pick it up quite quickly – set them the work, let them go. The next group will also come up to that standard with a minimal amount of input. All your time will be spent at the lower end. Your job is to bring that group up so the whole cohort travels together. That's why at the end just about everybody will be at the same level when they're graduating.
John was a perfectionist in everything he did. He's the only person who could build a tribal meeting house from the concrete foundations to the last stick of carving in it. He could do every single part of that house because he had his tickets in building. People would say he was as good at building as he was at carving. He was exceptional. His brother was the mouthpiece. He knew all the history. He was a great orator and a great carver. A very, very good carver. He must have worked on over 105 houses in his time.
Have you done many houses?
I've worked on well over a dozen, I suppose. Supervised about six in carving them.
What do you like to do the most? When you're carving do you have a preference for a particular type of thing?
I used to love the big stuff but then your hands pack up. You have trouble in the wrists and stuff. That's why I concentrate on the smaller work now. I do a lot of the finer stuff.
Do you think you've gotten better as a teacher, as time has gone on?
I've learnt a lot about teaching. You learn how to fix things. Guys come to you with a mistake and they don't know how to fix it. They get upset. But you know, the guy that makes all the mistakes will learn everything. The guy that doesn't make the mistake will learn nothing. I'll just say, "You're making mistakes, so you'll learn. When your turn comes to teach, you'll probably know six ways of getting out of the problem." I have another bit of advice too. I remember the old fella saying this. "Do a good job it's your meal ticket to the next one, and don't forget that." That applies to anything. Do a good job, do your best.
What do your graduates do, when they graduate?
We keep some on site but normally they all go back to their own areas. They may do other jobs. They might do related work. A lot of our guys have gone tattooing. We've got four schools on site here. One is up north, it's a waka school. We've got the weaving. We've got Te Takapū, which does greenstone, under Stacy Gordine. We've got the carving school, and we've also got a bronze foundry here. A lot of these young fellas in here, some of them are just like sponges.
Just out of interest, when did you learn Te Reo Māori, Clive?
When I was in high school. They all thought I was mad. Even the old headmaster. "Te Reo Māori." He said, "Why do you want to take that?" Dad was like, "He wants to take that language for a reason. He's interested in Māori wood carving and he's interested in all things Māori."
Mr & Mrs Fugill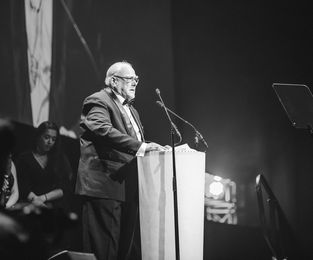 2019
Fisher & Paykel Healthcare
Value of Design Black Pin
Fifty years ago, in the early days of design training in New Zealand, a concerned and motivated doctor and engineer, from the former Department of Scientific and Industrial Research, approached Fisher & Paykel for help solving a problem with dry respiratory gases being used on patients.They collaborated to add humidity to mechanical ventilation using a preserving jar and some piping – a quintessential piece of number-eight wire innovation. From that clever piece of thinking we can fast forward through five decades of increasingly sophisticated product development, the result of which is a company that has become New Zealand's largest hi-tech exporter. A company that has consistently championed design processes resulting in sustainable commercial growth.
Throughout all those years of change, there have been two constants that drive Fisher & Paykel's people still: putting the patient at the centre of everything – to spark new thinking and, consequently, innovation; and two, placing designers close to the patient – which results in empathetic thinking and meaningful solutions.
Fisher & Paykel Healthcare should take pride in its work; last year the company's products helped 14 million people, in hospitals and at home, giving patients not just an improved quality of life but often life itself. One of the company's areas of expertise is the treatment of sleep apnea, a potentially serious sleep disorder in which breathing repeatedly stops and starts. It's a condition that tests Fisher & Paykel Healthcare's ability to innovate to the full, because, for starters, because no one wants to wear a mask and pump in bed, and secondly, making it stay on comfortably when the physics of breathing wants to push it off is the trickiest of design paradoxes. However, the company's success in this area can be seen in its potent growth, with a billion dollars in sales cracked last year.
Chris, congratulations to you and your colleagues on winning this award. Shall we have a quick recap on the genesis of Fisher & Paykel Healthcare for those perhaps familiar with the fridges, ovens and washing machines, but less familiar with the hospital, homecare and surgical products?
Thank-you. We are honoured and privileged to be acknowledged with this award. Fisher & Paykel Healthcare became a listed company, separate from Fisher & Paykel Appliances, back in 2001. We've been two entirely distinct companies since then, and we don't share design resources.

That said, we do have many decades of shared history, including the utilisation of some F&P Appliances motor technology which helped establish some of our earlier products. What we also have in common are company founders who had a relentless commitment to solving problems in the appliances business, and they applied that knowledge to improving outcomes for patients.

We still both have a culture of original thinking and immersive experiences which leads to the innovative solutions required to create better products, processes and practices.
Here's a general question – if you could name a couple of factors at FPH that have contributed to innovation through design what do you think they would be?
I would say, a fundamental belief of doing what is best for our patients and collaboration – using a multi-disciplined diverse team approach, while evolving and validating our ideas with our end users. That combined with having an underdog mentality, where we are driven to deliver innovative products that address a real need and ultimately changes clinical practice.
You've been designing successful products and services consistently across decades, but what are the challenges of today?
There are always new challenges and we are never complacent about being competitive. Being in such a heavily regulated industry brings its own challenges, however, ultimately the aim is to reduce healthcare costs and improve patient care and outcomes by minimising the burden on the healthcare system. Our continuum of care aims to reduce the intensity of care in the hospital, such as from intensive care units to the hospital ward, and ultimately to provide treatment in the home where the patient can remain independent in a more comfortable setting. This places less burden and cost on the healthcare system, whilst still providing optimum treatment to the patient. To do this we need to develop and evolve therapies and ultimately change clinical practice, and this is without doubt the biggest challenge we face.
We live in an age of data now – has that changed the skills and processes required to effect and sustain good medical product design?
Not only does data confirm efficacy of care but it also enables efficiency of care. Integrating sensors in devices helps to optimise the delivery of therapy, by measuring numerous variables and responding with custom algorithms. Also, those sensors in combination with Bluetooth and IoT connectivity can provide detailed, anonymised and aggregated data. With access to that data we can provide actionable insights which help to focus on patients need, leading to better outcomes. This has become a core skill requirement within our business, and we have numerous roles and teams that focus on sensor design, data reporting and analytics. The old adage that "if you can't measure something, you can't improve it" still rings true, and we are fortunate that in this day and age it is further enabled by the plethora of technology available.
Your patient-centric design approach has been described as a key to success. Can you provide any examples of the ways you bring designers and patients together? Is it field work, clinics, workshops, what does it look like in real terms?
Each multi-disciplined team within the business is focused on a particular therapy and patient demographic to ensure a deeper understanding of the environment in which our product is used, along with the individual needs of that patient and therapy. Be that an intensive care unit for our hospital products, or a patient's home or sleep lab for our homecare products. It is through observation our teams gather the most valuable insights on problem solving and this is where they develop true empathy for the patient.
We have dedicated clinical and marketing teams to help coordinate and conduct development clinical user trials and provide market and customer insight to help develop and evaluate our products. We are fortunate to have a dedicated and empathetic team that works with numerous patient demographics, customers, labs, hospitals and physicians around the world. We also have great facilities on site with our own sleep-lab, collaboration spaces and usability rooms that mimic the home environment or hospital ward.
Is there anything you can tell me about the ways your product and design teams work that readers might find interesting or surprising?
One of the most impressive things as a product designer at F&P Healthcare, besides working with the many talented people we have, is the tools and processes that we have access to. In very few places in the world would a graduate or new addition to a design team be able to sketch up a concept, model it in CAD, design an injection-mould tool, write the CNC code for it, machine it and injection-mould those prototype components and test them. Often all within the same week, or even the same day in some cases.
It doesn't matter if it's a state-of-of-the-art CNC mill, a 3D printer, sewing machine or a hot glue gun. We have the tools, equipment, skills and enthusiasm to conceive an idea, make it and test it. All with the aim of creating products that help solve problems for our customers and patients. I can't think of a more enjoyable environment to be a product designer.
F&P Healthcare is New Zealand's largest high-tech exporter – 50 years, one billion dollars in sales and 14 million patients helped in the last year alone. They are impressive stats, but in terms of scale, how do they stack up globally?
We're certainly humbled and very proud of our success over the last 50 years. In terms of our hospital and homecare product groups, we are among the top companies globally in our segment, although we're competing against some very large and well established international companies that are many times our size. That said, we continue to grow at an enviable rate, and our aims is to double in revenue every five to six years. The global opportunity for our therapies is massive, so we still believe we have a lot of room for growth.
You're a global company, is your design workforce similarly global?
About half of our employees are based in New Zealand and the other half are working in more than 30 countries. Our R&D and product design functions are based exclusively in New Zealand, where we have world-class healthcare, efficient and effective processes for conducting clinical trials, and strong links with industry and universities for recruiting talented staff.
Although our product designers are generally New Zealand raised and trained, we are also fortunate that we can attract and retain international talent from around the globe because of what we do and of course where we live. We are a global company and the diversity and quality of our staff reflects that. Our design team is no exception.
On a personal level, what is it about the culture F&P Healthcare that gives you the most satisfaction?
We're a successful international company with a small company mentality and we're dedicated to making a difference in people's lives through the products we make and the service we provide. If something needs doing, or an issue needs resolving, we all just get stuck-in to achieve it while working to an incredibly high standard. I'm proud to consider Fisher & Paykel Healthcare as an excellent example of what can be achieved with great people and outstanding ideas. It just goes to show that a small company, which was started in our small corner of the globe, can mix it on the world stage with the best of industry. We have been successful but have never lost our continual drive to improve and innovate.
This Black Pin is for the value of design – can you actually quantify that value, or is it to an extent intangible?
It is absolutely tangible and quantifiable. The marriage of form and function with real benefits and outcomes has helped establish us as the company we are today. Although the economics of cost and market opportunity are still important aspects of a successful business, it is through design that we innovate to solve problems, provide value to our customers and patients, and differentiate ourselves from our competitors.
2018
Rik Campbell and Steve Le Marquand
John Britten Black Pin
Best Design Awards 2018 Annual - case study
Stranger Things
The Internet, font of knowledge that it is, can make it hard to separate fact from fiction. Improbable-sounding things might be true; plausible-sounding things might not. In the middle is a host of part truths and red herrings, misdirections and obfuscations. The truth might be out there but it can be hard to discern.
Somewhere, in this Internet, lives Resn – New Zealand's best digital company (probably a fact), which was founded in 2004 by 2018 Black Pin recipients Rik Campbell and Steve Le Marquand, and, subsequently, formed in their own image.
Resn, according to Resn, peddles "gooey interactive experiences that will amaze and stupefy" to the world. They also self-describe as "the Internet energy ball", "Self-proclaimed Web Perverts", "Digital boffins/idiot savants" and "Creators of the Digital Disco Breakdown".
In short, they are an internet mystery, occupants of a digital halfway-house built at the crossroads of reality, a Kiwi Upside-Down – a place, at the wrong end of the world, with portals (a.k.a offices) in other realms, The Netherlands, China and America. From Wellington, Campbell and Le Marquand have implement their own inconoclastic vision of the Internet. They disregard convention, make their own way, and have what appears to be a huge amount of fun in doing so.
They've made masterful digital campaigns for some of the world's biggest brands – and have done it with such rude good humour that you might wonder if they're serious or not. But they are, of course. It can just be a bit hard to separate the myth from the man, or, judging from some of the photography, the pirate from the person.
Sons & Co.'s Matt Arnold touched on this when introducing Le Marquand and Campbell at a Designers Speak® talk in Auckland.
"They are seriously smart people doing seriously good work. They are New Zealand's best digital designers. One of the most admired in the world. Respected unconditionally. They have 75 people in four countries. And not crap countries. Proper ones."
Their humour, said Arnold, is a "a New Zealand thing", a deflection, a diversion tactic.
"It's a form of modesty, but it's this irreverence and sense of mischief that makes them so distinct in an industry that is typified by self-important blowhards. Resn is the Trojan Horse: looks like a novelty-sized wooden pony, but open the hatch, and you're staring at 75 cold-blooded killers…On the one hand, a clownish, immature ridiculousness, and on the other, a serious, no-nonsense rigour that is frightening in its intensity."
Interestingly, there's not much biographical information available about Le Marqand and Campbell (and disclaimer – the interview that follows might not put too much more flesh on the bones) which suggests, to me, a desire to avoid the creation of self-aggrandising mythologies. Either that or it's a cunning plan to exaggerate personal mythologies through absence of information and swell of rumour. I think it's the former – they live to do great work.
Well, we should start at the beginning, I guess. Rik, where did you grow up? What were you like as a kid?
Rik: I grew up in Nelson where I was raised on a steady diet of pulp noir and light jazz. Because of this, I have no background. Everything is foreground. Like many people, I grew up trapped inside of my own body. I desperately wanted to break free, but that would have been very messy. As a kid, I can only describe myself as childlike. Except for the beard, obviously, which foreshadowed the man that was to come. A five-o'clock-foreshadow. It was only after discovering my talent for design that I really came into my own. I like to think design school made me what I am today: a corporate manager. Percentage-wise I am 20% designer, 50% blind and 40% Creative Company Manager and 10% undecided. I like long walks on the beach, deep conversations and holding hands.
What about you, Steve?
Steve: I grew up in the fertile mangrove swamp of the Manawatu in the 1970s and 1980s – a mystical age of multimedia saturation and lack of parental supervision. It was the ideal environment for a growing mind. Music was an early obsession and I taught myself to play piano by ear. When that resulted in a sum total of zero girlfriends, I took up the guitar instead. Between my totally rad thrash metal band and finding commercial and critical success in high school art class – my art teacher bought one of my sculptures – I thought I might make this creative thing work.
Years later, while playing in bands and studying design, I discovered Flash. Here was an opportunity to combine all the skills and passions I had acquired over the years. I'd finally found my calling. Maybe I'd even get a girlfriend. I decided to quit design school and get on board with the future. Turns out the future was bright. Until Steve Jobs (RIP) killed Flash. Great Jobs Stevo!
The rug of Flash ripped from under your feet. Did you display any special early abilities in the digital realm? Were you interested in sci-fi, dismantling and re-building computers…?
Steve: Yep.

Rik: I am the way and the truth and the life. No one comes to the internet except through me.
How did you two meet and when and why did you start Resn? Did you receive any advice that was good, bad or otherwise in the early days?
Steve: We met through our combined love of horses, two of which featured on the old Resn site homepage. I am more of a gallop kinda guy whereas Rik likes to trot.
Rik: Horsey!
Steve: We could not get enough of the work that was happening in the creative digital space online at the turn of the century. It was incredible work to experience, with designers mixing amazing new graphics styles with interactivity and animation. All of it was happening overseas and we were on an island that was not on many maps. There was a real feeling of something new emerging. We were inspired by this, we wanted to make this kind of work and to inspire others, but from New Zealand.
For those who don't know – what's the best way to describe what Resn does?
Steve: We make cyberspace (and now physical space) an absolute joy to experience.
Do you do any work for New Zealand clients these days? Or is it all overseas?
Steve: It's mostly offshore but we do have a few New Zealand clients from time to time. We really enjoy working with big brands and global agencies as they usually have the budgets that fit their ambitious ideas. When working with local clients, you really need to either find really cheeky ways to bring down costs or simply compress the ideas into their essence. We are pretty flexible but prefer the compression technique as it allows you to stay true to the core idea, have razor-sharp focus and still deliver.
You are well known for having a decent sense of humour – is this a useful tool. Working overseas, do people get where you're coming from?
Steve: I think our irreverence played a huge part in winning the hearts and minds of our American friends. We were polar opposite to the big talk, look at me, car salesman vibe that they were used to. We didn't really care if we came off a little whack. The work spoke for itself. I think if you do great work, and you always deliver, you can be forgiven for a few bad dad jokes.
Because you speak about your achievements quite humorously, it makes it sound like it's been an effortless ride. Has it been?
Let's just say it's easier to pretend that things are easy than admit that this industry can be very unforgiving. Today's poster child is tomorrow's yesterday's news.
Ironically, the work you do and the clients for whom you do it are I'm sure are very serious about achieving the right output. Who have you enjoyed working with the most, who has been most on your wavelength?
Creating things that engage the targeted audience is our part in the marketing and communications puzzle. We are fortunate that we are a trusted company known for delivering special projects. Standout ideas are anything but commonplace. Therefore, ensuring you have a team that can deliver it to the highest standard, in a short timeframe, is a key factor for clients to get on board.
We often work on projects with larger budgets, numerous risks, and short timeframes. Technology is a field of possibilities and a minefield of risks. Having a dependable corps of creative people who can harness the technology and make it sing and dance, instead of crash and burn, is one of the most important aspects of the business.
Collaboration with clients and partners is another important ingredient. Together, we grow an idea, pushing the technology to its limits and shaping it into its final form. We work on many different wavelengths. We enjoy projects that let us push the boundaries, that are a joy to work on, and are fun for people to play with. We equally enjoy the more serious projects that require the finesse and detailing we are known for.
You have what, three or four offices now and I think 75 staff – have you observed any cultural differences in the different markets you operate in? Do you travel a lot? Or are you based mostly in Wellington? And with that many staff members, do you have time to do what you like to do, or are you bogged down in person management?
Globally, we have 9,064 bones, 879 toes, 95 eyes, and three harbours. We love the work Resn makes and are always looking for more. With that many bones, we do need to spend a lot of time on making sure the boats we are on are free of leaks, comfortable, and headed towards plentiful seas of challenge and reward. It keeps us busy.
There are cultural differences, but those differences are similar within our various geographies. Some markets are more mature in the creative digital industry, some are more bound by legal fears, some are very small but have big ideas you need to reframe. Some are more open to trying new things and new partnerships. There are differences across remuneration, entitlements and job titles vs experiences and skill. There is also a different appreciation for humour across cultural borders. Looking at you Netherlands.
Technically, as in technologically, what's changed during the course of your careers?
Many things have changed in our little-long time in the wide web world. Change keeps changing. Even past facts change. When we started the Earth was spherical. We found out recently it is actually flat. It makes sense if you don't think about it.
Explosive drone harpoons were a brilliant idea until we run out of whales. We will need to switch to a different form of renewable energy if we don't start farming whales. It is a good thing New Zealand's backbone is farming. The internet is a hungry monster to power.
Broadband, the iPhone and Facebook are younger than Resn. Even though they are struggling, we believe they will be a big deal and have an impact on internet usage, but don't take our word for it.
Insider tip: Robots with human brains are worth keeping an eye on.
What's the composition of your office like? That is: How many people are there, are you all developers, what other sorts of creative types do you need, are you guys still on the tools, is it a man's world, or has that begun to change, who pulls in the work, and globally, how competitive is the sector – or how hard is it to get the jobs you want?
We have a range of creatives types, from designers to illustrators, animators to writers. They each bring their own unique perspective and qualities to the team. We have hovered around 20 people per studio for quite a while. It gives an extended family vibe while still having enough hands to shape world-leading projects.
Recipe-wise we are around 40 percent developers, 35 percent design/art/creative, 15 percent producers, 5 percent biz dev and 5 percent management. The rest is advanced Artificial Intelligence, a sheepdog, a Norsk Skogkatt cat, bath salts and beef OXO cubes in mineral water instead of the industry-standard espresso.
We are in a hyper-competitive industry. We are veteran battlers who like to make sensational singing shiny things that inspire others into the fires of commercial creativity. We have not yet found a way to free ourselves from competitors. We are thinking of buying them all. Or just becoming a client then we can give ourselves work. We think that might work.
Our work opportunities come via a postie who delivers us work by Par Avion mail. We have been told we cannot rely on this forever, which is kinda depressing. Some people are just killjoys. We also hire planes to take us to far away lands where people like our stuff. We also enter awards where other people like our stuff.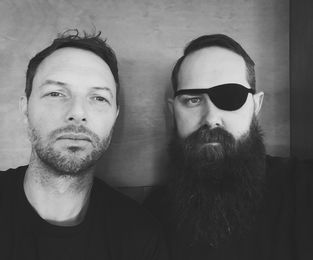 2017
Kent Sneddon
Designers Institute Black Pin
Kent is best known as the design architect for the Aurora Jet Shower, which turned showering from a daily chore into a luxurious water experience.
Kent graduated from the Wellington School of Design, and first worked with noted designer Peter Haythornthwaite and then Fisher and Paykel where he went on to lead the development of a global strategy for a new generation of appliances and concepts for the company.
He joined Methven in 2006 and built a design team that developed many innovative technologies, shower products and tapware collections.
During his time at Methven, the design team won Best Design Awards, a Good Design Green Award in the USA and Red Dot Design Awards in Germany.
But Kent and his team just didn't design showerheads and taps. As head of design for Methven Kent believed that a designer's role was to listen and talk to customers. So they researched how people showered and how water spray affected different peoples' skin. He and his team were also concerned about sustainability and water conservation, and their water saving shower heads were a particular success in the Australian market, where water is short.
Former colleagues said Kent had a great sense of aesthetic and a persistence to make sure the design intent made it through to the final product. He would challenge the boundaries and preconceptions of what could be done.
He had a bold and confident style and was not afraid to use curves and flowing surfaces to express and embody character and personality into the product.His sketching, they said, was phenomenal and he could change the direction of a conversation with a drawing to give clarity to the vision he was describing.
He was an extremely talented designer and although he had achieved a lot he still had far more to give. His growth and ability to integrate design into business was one of the great success stories for the journey of design led business within NZ.
His passion and enthusiasm was infectious enough to pull everyone else along on the journey, always a combination of hard work mixed with a lot of humour, said friends and colleagues. His casual style created a fantastic team environment and made him fun to work with. The big personality that he was meant that he had a wide reach of influence, making the gap left by his passing a great void.
His growth and ability to integrate design into business was one of the great success stories for the journey of design led business within NZ.
This year, the Methven celebrates its 130th anniversary and Kent would have been gratified to learn that the company was awarded the Best Shower Brand of the Year in the 2017 Bathroom and Kitchen Update awards in the UK, against such global giants as Grohe.
Kent made a lasting contribution to the design profession in New Zealand, and this award acknowledges that he hadn't reached his peak and that he would have gone on to develop more innovative and ground-breaking designs. A great talent whose life was cut short.
—Pauline Ray
www.dockstreet.co.nz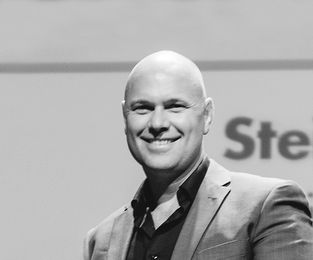 2017
Dan Bernasconi
John Britten Black Pin
As the team's Technical Director, Dan this year channelled 25 years of study, experience and innovation into one incredible moment - sending a brave and revolutionary boat design flying over the finish line in Bermuda to claim the ultimate sailing prize.
It's been a long voyage for Dan. But it's been a straight and purposeful one. Growing up in England, his love of numbers took him to Cambridge University. Drawn to the tangible rather than the abstract, he switched from pure mathematics to engineering and the practical application of maths and physics to design problems.
This soon led to the role that introduced Dan to the world of high-tech sport, as a Vehicle Dynamics Engineer for the McLaren Formula One Racing team.
At McLaren he quickly learned about the day-to-day realities of a being part of a high pressure, high performance design team with a razor sharp focus on winning.
"Good design is having a clear understanding of the problem you're trying to solve; being open to exploring as wide a realm of solutions as you can; focusing on the best options; and then thoroughly optimising the chosen solution."
Over the next six years Dan's own focus became racing simulations and the iterative design process, as every last ounce of speed and performance was coaxed out of the team's racing car designs.
At McLaren, he also learned the art of managing engineers, from his boss Dick Glover. As Dan himself admits, great engineers are not necessarily great managers of people. But a key piece of advice from Glover has stayed with him: you will never be able to do all the work you want to do yourself, so view your team as an extension of your own capabilities, giving you the resources to do more of the things you want to do.
Dan Bernasconi always had more of a passion for boats than for cars, however. So after taking time out to complete a PhD in Mathematical Modelling and Aerodynamics, he moved to the world of high performance sailing at the end of 2006 and to Emirates Team New Zealand in 2010, where he has been ever since.
The team's win in Bermuda was a triumph for design leadership. Over many long months and thousands upon thousands of simulations, Dan and his team of specialists worked to design the most radical boat they could within the rules. From engineers to management to the amazing sailors, everyone was onboard with their mission; to explore, to be radical, and to win.
From the finely tuned dagger boards to the complex foiling systems required to propel their AC50 to victory, Dan attributes Team New Zealand's success to an attitude of experimentation and creativity.
It should come as no surprise, then, that they have their eyes on new horizons. Dan and his team are exploring radical concept designs for their next boat. And a number of his former teammates are now working with Rocket Labs, leaving the water and launching New Zealand's most cutting edge design work into the heavens.
We asked Dan what good design means to him. His answer encapsulated the thinking of any designer:
"Good design is having a clear understanding of the problem you're trying to solve; being open to exploring as wide a realm of solutions as you can; focusing on the best options; and then thoroughly optimising the chosen solution."
And in the case of Emirates Time New Zealand, that chosen design solution could not have been more effective.
—Mark Easterbrook
easterbrook.co.nz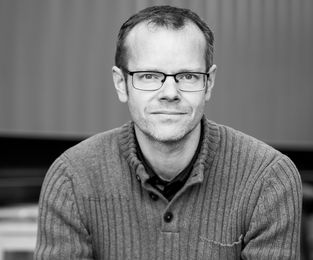 2016
Ben Corban
Designers Institute Black Pin
Corban knows a thing or two about hard work. His Lebanese great-grandparents were pioneers, founding Corbans Wines in the rugged gum lands of West Auckland in 1902. Two generations hence, and the family work ethic remains strong. "They started a commercial winery in an industry that was in its infancy in New Zealand," says Corban. "We were brought up to understand the energy and perseverance it takes to build something. But to also love what you do – because you spend a lifetime doing it."
Corban didn't go the winemaking way. He studied painting at Elam School of Fine Arts and Goldsmiths, University of London. The art world was booming in the mid-nineties when he was in London, and he watched while the YBA movement turned traditional arts practice on its head. "When Damien Hirst sold his preserved shark to Charles Saatchi, he sold the idea of the work first," says Corban. "That transaction was fascinating. It was the inverse of traditional arts practice."
Corban and his friend Dean Poole were so taken by this creative model that they returned to New Zealand and in 1999 set up a design company with a difference. They would present clients with a strong idea and then develop the most appropriate execution of it ­– across multiple disciplines and media. They operated at the intersection of design, culture and business, with the ethos that it's not what design is, it's what design does that counts.
"We live in a time where change is not only constant, but more amplified than it's ever been," says Corban. "Design, as one of the drivers for innovation, is now more important than ever."
Alt Group was founded as a classic start-up in a garage in Grey Lynn. They read lots of books, learnt quickly and began by doing work initially for people they knew. Every job was important and each job led to the next. And the rest, as they say, is history. Seventeen years later, Alt Group is New Zealand's most awarded design company, having won over 450 local and international design awards, including eight Purple Pins, 30 Red Dots and the German Design Award. Corban is now managing director, and responsible for a multidisciplinary team of 24 strategists, designers and content developers, who work across New Zealand and on an increasing number of international projects.
"Design is a process of not knowing and finding out," says Corban. "And when you say that to a client, it can be reasonably confronting. But, simply, that is the process. We bring collective experience and an objective point of view to an organisation, along with established systems and processes. The steps, jumps and leaps forward happen from the intersection of different perspectives and ways of thinking. Design can be used to generate insights, give form to ideas and make thinking visible."
As an artist first drawn to commerce, he now draws commercial clients to creative thinking. And with the firm belief that creativity is as important as any profession around the board table, Alt Group engages businesses with design even before a new product or service is invented. "There is an inherent tension in every organisation between the preservation of what's now and the invention of what's next. One is about control, analysis and optimisation, the other is about exploration, creation and vision – survival and ultimately success requires both."
"We live in a time where change is not only constant, but more amplified than it's ever been," says Corban. "Design, as one of the drivers for innovation, is now more important than ever."
—Andrea Stevens
www.folio.nz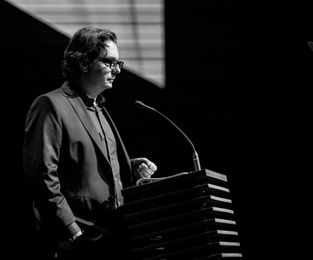 2016
Danny Coster
John Britten Black Pin
Coster's career began with a job in his father's hardware store in Mount Eden, Auckland. While mixing paint and cutting timber, he also helped customers find creative ways to solve their DIY problems. At home, he was surrounded by his mother's paintings of landscapes, still lifes and abstract subjects. His childhood was defined by design and craft, and he often found himself in the art department at high school while his mates were on the sports field.
Coster left school at age 17 for an internship in Tony Winter's retail design studio in New Lynn. This led him to pursue an industrial design diploma at Wellington Polytechnic. "I always liked complex problems," explains Coster. "And it was the multifaceted aspects of the profession that drew me in."
At Wellington Polytechnic, Coster learnt how to translate ideas into process. Academic projects led to a real-world contract in which he and his schoolmate John Woolett were tasked with redesigning the entire range of Hutchwilco life jackets. This experience was his launching pad to a job at KWA Design Group in Sydney.
"I had to develop my own point of view," says Coster. "It was a time to work out how I could add value to the conversation. Humility was my foundation, and it allowed me to contribute in a way that served me well in the years to come."
"I had to develop my own point of view," says Coster. "It was a time to work out how I could add value to the conversation. Humility was my foundation, and it allowed me to contribute in a way that served me well in the years to come."
After four years in Australia, Coster set his sights on America. Apple offered him a position in 1996—about a year before Steve Jobs returned to transform the company into one of the most innovative and successful consumer brands on the planet. In his 20 years at Apple, Coster was a core member of Sir Jonathan Ives team and contributed to the design direction for a wide range of iconic Apple products.
"Apple was the ultimate environment for elevating design," says Coster. "They were so supportive of what could be quite fragile ideas that, if they had not been given the space and time, might never have come to life. It was a blessing to be with a wonderful company with such good friends and inspiring leadership."
Coster is discerning about the future of technology and its impact on people's lives. "Design can foster an intimacy that has been lost through technology," he says. "Today, we can be in touch with anyone, anywhere, at any time, but it's fleeting. If design could bring more compassion to how we share, and help us be more present with one another, well, that would be a big deal."

Coster is Vice president of Design at GroPro.

—Andrea Stevens
www.folio.nz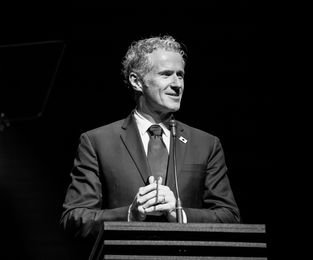 2015
Professor Tony Parker
Designers Institute Black Pin
Tony Parker is described as having a refined sense of form development and aesthetic judgment and that he can articulate design in a way people can understand. Tony has an expert understanding of the way ergonomics, form, product architecture and customer engagement work together.
His extraordinary visual acuity ranges from his incredible drawing skills, his digital illustration skills to his appreciation of visual communication design. He is thoughtful and passionate about design and his horizon is international.
Tony's passion for design education has nurtured several generations of product designers, many of whom are scattered across the globe, much to their teacher's delight. People such as Matt Holmes, Head Designer at Nike, and Danny Coster, who is in the inner sanctum of the design team at Apple.
As Head of Industrial Design at Massey for over ten years he has mentored young industrial designers and matched graduates with his incredible international networks. He himself has a Masters degree from the Royal College of Art.
He walks the talk by continuing to practice design at the highest level through his work with Gallagher. He is the creative brains behind a slew of innovative designs, from petrol pumps to the Hulme Supercar.
Professor Tony Parker is a past president (2007-2013) and a Fellow of the Designers Institute. He has been the convenor of the product judges at the Best Design Awards since 2007. He is currently Associate Pro Vice Chancellor as Research Director for the Massey University College of Creative Arts and, and a member of the Industrial Design Society of America.
—Andrea Stevens
www.folio.nz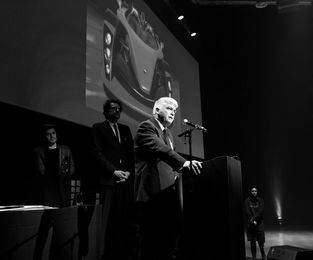 2015
Kris Sowersby
John Britten Black Pin
Kris Sowersby works in a singularly solitary profession, and yet has achieved world acclaim for his craft. He is a thoroughly modern designer who has helped to redesign one of the most traditional of British newspapers.
While it may seem to be an unusual craft in this digital age, people like Kris have reinvigorated the art of type design. He has been described by admirers as one of the leading rock stars of type design because he combines historical knowledge with rigorous contemporary workmanship and finish.
Kris is a graduate of Whanganui's School of Design, and after graduation spent three years teaching himself to design typefaces. His first retail typeface, Feijoa, was released internationally in 2007, and his second, National, won a certificate of Excellence from the Type Directors Club of New York. Since then he has received two more certificates of Excellence. Kris is a member of the prestigious Alliance Graphique Internationale, he has been honoured by the Art Directors Club and this year won the Judges Choice in the Type Directors Club awards, for his Domaine Sans typeface.
Clearly, as can be seen by the commission from the Financial Times, Kris has achieved international acclaim at a relatively young age. Despite the antisocial time difference, Kris spent some months working on a new typeface for the new design of that august organ, the Financial Times, which has been widely praised by its readers. The typeface was aptly named Financier.
"The reaction of readers to the font has been very positive. In focus groups, readers typically described it as "elegant, distinctive and more attractive to a modern readership."
Kevin Wilson, Head of Design for the FT, said the newspaper specifically wanted type that wasn't a traditional news typeface. He said "We wanted the typeface and redesign to have a considered personality to match our style of journalism, which is our strengths in analysis and comment.
"The reaction of readers to the font has been very positive. In focus groups, readers typically described it as "elegant, distinctive and more attractive to a modern readership."
Kevin also said Kris was quirky, knowledgeable and fun to work with.
—Andrea Stevens
www.folio.nz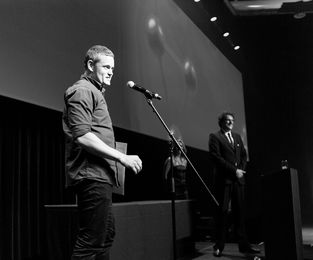 2014
Mark Cleverley
Designers Institute Black Pin
The Black Pin for Outstanding Achievement recognises a someone who has made a lasting and valuable contribution to the design profession.
Calling Mark Cleverley's contribution to New Zealand design 'lasting' is almost an understatement. From graphic design, to object making, pottery design, textiles, teaching, and architecture, there's hardly a type of design that Mark hasn't touched over his six decade legacy.
To describe the extent of Mark's multi-faceted career in full would take hours. But in brief, Mark started his illustrious career at age 18 in Hamilton as an architectural draughtsman at the NZ Co-operative Dairy, then moved to Christchurch to work at Warren and Mahoney. He won a scholarship to the Elam School of Fine Arts, and was one of the first students in the new graphic design programme. From there, he freelanced in graphic design – and even designed the Ballantyne's façade and engravings. He ventured to the big smoke for a brief stint in advertising, then dived into the 3D world of packaging.
During this time, he made his first foray into stamp design. And he certainly stamped his mark. He introduced modernist, simplified designs to New Zealand Post – a move that proved incredibly popular.
Arguably, his most prominent work was as a creative director at Crown Lynn. He was always one step ahead of worldwide trends, creating new designs and printing techniques, taking reference from indigenous patterns, fighting traditional ideas. But his most influential role was teaching in Christchurch and Wellington – his students rave about his passion for typography and design history, his clever and challenging briefs, and above all his engagement and enthusiasm in their own projects.
Mark has been an important player in the international design industry. In 1972, he was made a full member of the prestigious UK based Society of Industrial Artists and Designers (SIAD), and was also nominated as the NZ representative at the International Council of Societies of Industrial Design (ICSID) Interdesign conference in Canada in 1974.
During the sixties and seventies, he was involved in founding professional design organisations – the ancestors of the Designer's Institute – to create a supportive network to promote and connect designers around New Zealand. He even helped establish an early version of the Best Design Awards.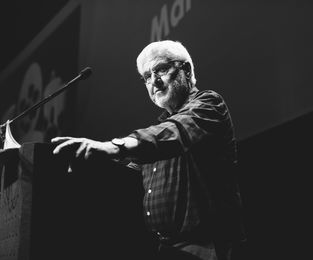 2014
Matt Holmes
John Britten Black Pin
With his accomplished career, one suspects Matt Holmes has already achieved a kind of design nirvana upon top of which the Black Pin for Career Achievement is, perhaps, a cherry – albeit a sweet one – on top.
Holmes, a Nelson boy, has, through design, ended up quite a way from the top of the South Island. Since May '97 he's been based in Portland, Oregon, working his way through the ranks to the position he holds today: creative director of innovation at Nike Global Footwear. There, on a campus of around 10,000 staff, including 800 designers, Holmes works out the future product directions of the footwear and apparel giant.
Talking with Holmes, one thing is obvious. He loves his work; however, importantly, he's found a way to maintain delight and curiosity, two qualities he exhibited as a sports-mad Nelson youngster extending the life of his weekday tennis shoes ($9.95 Bata Bullets) with metal plates, Shoe Goo, tape and deodorant roller balls (toe-dragger) so his number ones (Nike Resistance, yes, presciently on brand) were preserved for Saturday mornings. He'd literally rip through a pair of Bata Bullets in a fortnight, he says. Modifications were essential.

Born in the UK to creative parents (Mum: sculpture and piano; Dad, "everything"), Holmes was five when he arrived in Nelson, a town that was perfectly suited to his parents' arts and crafts inclinations. At home, he learnt woodworking, welding, metal casting – aluminium, bronze – air brushing and sculpting. A few years later, the school guidance counsellor, finger perhaps not on pulse, suggested he enrol in nursing school – which he duly did, before being saved from a life of saving lives by a 'Delorean moment'. That is, he saw a Delorean (you know, Back to the Future's time machine, if you have to ask you're too young) on the streets of sleepy Nelson. He saw it when he was answering a classifed ad placed in the Nelson Evening Mail for a pair of Nikes, believe it or not. "It stunned me," he recalls. "Wow! Somebody is making these things?"
The following day he went to his art teacher on a quest to find out "who does cars, shoes and equipment?" "An industrial designer." "Why have you never told us about industrial design!?"
One viewing later, of a video showing Phillips designers at work on radios, and he knew; "This was it."
"It stunned me," he recalls. "Wow! Somebody is making these things?"
Wellington Design School beckoned. Leon Yap, Noel Benner, Mark Pennington, Tony Wincart and Helen Mitchell were lecturers. Workshop tutor Eric Bond is fondly remembered: "He was just brutal but you learnt so much about perfection; you've got to keep doing it until you get it right". Tony Parker, he recalls, was the only professional industrial designer. "He was our role model…great at rendering and finishing skills. He was super talented."
After graduating, Holmes' career followed what has become an almost typical New Zealand design trajectory. He went to Mosgiel, to Fisher & Paykel, to work on ovens and cooktops before joining the DishDrawer design team. Them that achievement squared away, and after seven years in Dunedin, it was time to head offshore. Portfolio in hand he hit San Francisco and was interviewed at Ideo, Sony and Apple. Job offers followed, including, memorably, a position at Apple. "I was sitting with Jonathon Ive," he recalls. "He said, 'We'd love you to join our team but it seems like you're really into sports and fitness. Do you really want to work on computers? Do you think it's something you'd love to do?'"
Actually, it wasn't. I've, admiring his honesty, put in a call to a friend at Nike. "They flew me up the next day and I got the job. It was pretty crazy."
At Nike, Holmes' first role in cross training gear was aided by his wide interest in sports. It was, he says, initially challenging because there was not one clear consumer, but it was an opportunity to learn about "how to get products to connect with consumers without a lot of help from the brand".
Nike Running – the company's biggest category – was next. After a four-year stint as design manager he became design director for the next three. It was hard work. Long hours, a huge amount of travel. "Sixty-five hours a week travelling to Korea and Taiwan nine or ten times a year. It just about knocked me over. In the end of that they just said where do you want to go? I said tennis or innovation. So I got a short time in tennis, it was supposed to be a year and half, but ended being nine months. I got to work with Roger Federer and Nadal, and that was just amazing. Because of the nature of the tennis tour, you just follow the sun."
Today, as Creative Director of Innovation Footwear, Holmes role is to set a vision for his team, recruit the right people, find the right mix of problem solvers, those aesthetically strong and maintain an all important "positive vibe". At the moment, there are 23 in his direct team, which includes sector design directors each with a team underneath them. "I'm setting the future direction for those guys, challenging them, trying to show them things on the horizon from science that are coming along and are going to affect athletes – and us – across the next 10, 20 and 30 years.
So, what sorts of things are Homes' priorities right now. What are the things to look out for. "Design starts with insights," he says. "You're always trying to make it better for athletes, so you're constantly searching for insights, whether it's in the Nike sports research lab, by looking at high speed video, watching games and analysing data around a game. You might be watching Rafa [Rafael Nadal] serving and see his shirt twisting and pulling; we can eliminate that and then, when we do, we want the solution to be as bold and iconic as it can. It's also got to be intuitive, so people get it immediately…make it clear and make it bold."
"I'm setting the future direction for those guys, challenging them, trying to show them things on the horizon from science that are coming along and are going to affect athletes – and us – across the next 10, 20 and 30 years."
Innovation also comes in the form of manufacturing. A good example is Nike's Flyknit shoes. Knitted, as the name suggests, rather than traditionally assembled, the shoes offers benefits to users – they are light and strong – and production efficiencies. For every two shoes that are produced in a more traditional manner there's one of waste, explains Holmes. "So a third of our materials are basically getting thrown away". One of the first attempts at more efficent manufacturing involved taking the waste and turning it into shoes, "which is kind of a half-arse way to do things".
"It was looking at the problem but not in the right way."
Direct manufacturing, which means being able to send a programme to a machine and have it knit exactly what you want with no left over waste, has "made a massive change".
As a designer that is near the apex of the professional, it is always interesting to hear about the chracteristics of the best designers. For Holmes, it's curiosity, "an attitude; you've just got to be a problem solver, an entrepreneur, you're looking for that mindset, that person that would probably go and do it out by themselves."
"They'd find a way to do it by themselves, but when they join our team and we give them the resources they need they just catch on fire and start thriving on the collaboration."
-Michael Barret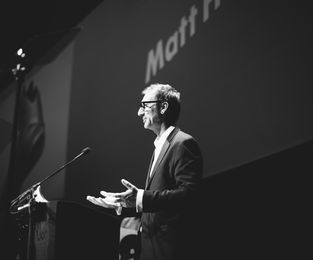 2013
Cathy Veninga
Designers Institute Black Pin
In 2013, the Designers Institute of New Zealand honoured its Chief Executive, Cathy Veninga, with its highest award – a Black Pin for her outstanding "contribution of service and leadership to the institute." As Tony Parker, a Fellow of the Institute, said at the awards presentation, Veninga is "totally dedicated to advancing the importance and contribution of the New Zealand design profession, to the value and quality of design professionals in our country and to the vitally important role design makes to our economic performance, cultural expression, national identity and sense of wellbeing."
Like all Black Pin winners, Veninga has a long background in design leadership. She was first elected to the Institute's Board in 1998, was its first female president – an important milestone with gender parity in design and architecture still under the microscope around the globe – and, in 2005, she was appointed as the first Chief Executive Officer of the Institute in 2005.
"At that time there were major global influences around design thinking and we needed to be responsive to this thinking as a professional body if we were to remain relevant," she says. "Organisationally, and as a design community, we had to stop navel gazing and develop a more inclusive collaborative approach to the way we worked and engaged. The Institute, as a multidisciplinary organisation, gives us this rich and our unique point of difference."
Veninga's career in design could be considered synchronous with the growing sophistication of New Zealand's growing design industries and cultures.
Up to 2005, the Designers Institute was an organisation that relied solely on the voluntary support, hard work and passion of its members. A full-time CEO provided some real operational structure to the organisation and allowed it to widen its ambitions while improving its ability to respond nimbly to challenges it faced.
Over the years, it began developing richer programmes that both inspired, educated and justified membership. The Designers Speak Series, says Veninga, has been especially successful in communicating the challenges designers face; "it talks about design process; it gets inside the stories".
From the outset of her tenure, Veninga says her aim has been for the development of an inclusive organisation that encouraged the development of peer relationships through industry events. Importantly, the exponential growth of the Best Design Awards provided an annual benchmarking activity for the industry.
"The significance of the Best Design Awards is that has been crucial to raising standards in design while also providing a window of insight into what is actually happening in the design community. It is also an opportunity for those involved in design to get together with their clients and colleagues."
Veninga cites the establishment of the Best Effect and Ngā Aho awards as important recent milestones. Best Effect qualifies the values of design to potential clients and might offer leverage in the argument that design has an important role to play in New Zealand's economic future. Ngā Aho recognises New Zealand's fortune in having strong indigenous culture and heritage to reference in its design expressions.
"The significance of the Best Design Awards is that has been crucial to raising standards in design while also providing a window of insight into what is actually happening in the design community."
"Ngā Aho – that's really important. I would say it is the most unique award of its kind in the world because of how it really values and appreciates how we are imbued with our own indigenous culture and how we are able to work collaboratively towards a co-design agenda."
Just as the Best Design Awards can be seen as a means of benchmarking and standard-raising across the country, Veninga thinks the establishment of relationships with like-minded organisations in Australia and further afield can both raise design standards here and draw international attention to the quality of work here.
Veninga has formed strong partnerships with key Australian design organisations, such as AGDA (Australian Graphic Design Association) the DIA (Design Association of Australia), and the Australian International Design Awards, as well as reaching out to other international design organisations.
Networking with like-minded international design organisations has been a key component of Veninga's time as CEO of the Designers Institute.
"Building these international relationships puts the spotlight on New Zealand design," she says. "But the most important advocacy is to New Zealand's central and local government, and to local businesses. It is important for us to produce case studies that demonstrate that design is a significant part of New Zealand's economic future. Designers and their clients already achieve significant and measurable returns internationally. We just need government to signal more widely that New Zealand is an innovative country using great design."
Veninga, who looks across New Zealand's design landscape from an almost unrivalled position, believes New Zealand has a richness of community.
"It is important for us to produce case studies that demonstrate that design is a significant part of New Zealand's economic future."
"We are a diverse community operating across different design disciplines, but there is a recognition, I think, of the need and opportunity for collaboration. I think our communities are very responsive to global influences, especially around how design is implemented for clients. What the Institute is really about though, is building community, and while we try to deliver meaningful professional services as an organisation, we are really about facilitating the growth of the community and developing value for the community."
Veninga was humbled to receive the Black Pin award – and also, perhaps, just a little angry that she was singled out for the unexpected honour. As many people in the design industries might agree – work can be its own reward. Veninga certainly enjoys hers. "I have the best job in the world as it offers diversity, vision and challenges. The challenges form part of the vision that creates the excitement."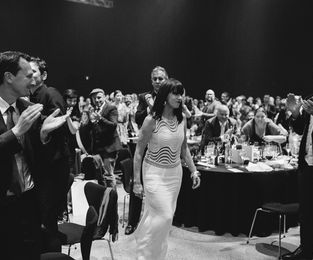 2013
Grenville Main
Designers Institute Black Pin
The Designers Institute Black Pin for Outstanding Achievement is conferred upon an individual, who, as a member of the Designers Institute of New Zealand, has made a lasting and valuable contribution to the design profession and to design in general.
Grenville Main, creative director and managing director of the design consultancy DNA and Fellow of the Designers Institute of New Zealand, has done more than most to improve the perception and raise the value of design in this country.
Across his career, Main has worked to improve the perception of graphic design above that of "the colouring in guys". He works strategically with significant companies, improving their systems, communications and services. He has also played a key role in fostering the talents of a number of New Zealand's top designers.
It was at a youngish age that Main discovered his own talents lay in the visual arts. As a student at school he recalls being "relatively aimless" until a career councillor suggested he venture into the art department. He took to it, and cites himself as being lucky to have someone at school suggest that he go to polytech to do a course in design. He was young, though, but already a potential disruptor: "I was seventeen-and-a-half when I began design school and loved it. I had a bit of a rocky road; I had a poor professional attitude and was actually put on probation for my last year, so I had to sharpen my attitude up. Actually, I've probably still got a poor professional attitude…".
Out of design school, Main was employed by Gus van de Roer, who was confident enough to entrust him with the task of establishing Van de Roer Design in Auckland. He eventually returned to Wellington, "took a bit of a break to work on Wellington's version of Metro magazine for while".
"I can't remember what it was originally called, Cosmo I think, which was a disastrous name, but then they called it City Mag". Lloyd Jones was the editor, but Main was soon on the move to Bright Newlands and Associates (BNA), where he became a partner, helping to help drag the company through the post-1987 doldrums.
BNA was eventually renamed DNA in 2000. It is, says Main, "a classic little Kiwi company".
"It started off with five people and grew to 60 at one point, until the recession said that that might have been a little on the high side. And, we've developed as the industry has. We've got people in service design, we've got people in digital, and we've got people researching services and experience out in the field with customers. We've become a lot more user-focused which has made us a lot better at what we do."
What was once just "graphic design" has, for Main, become a constantly changing and ever-interesting field. Over the years, his firm has morphed from a graphic design team into a strategic consultancy with full digital capabilities, and he's quick to point out that New Zealand design companies are selling themselves short by not seeking stronger quantitative analysis of the benefits their skills bring.
"Graphic design is where the discipline started, but I think that's a term that really holds us back as an industry," he says. "Graphic designer doesn't sound hugely compelling any more. It's a thing that everyone understands at one very simple level. But communicating what it does rather than what it is – that's the thing that is the challenge. As an industry, we've just been woeful at selling the value of what we do."
"We all think we're pretty good. I mean in my case, I've lived through the 80s, you know, god forbid, where people were a bit obscene. There were pots of money being thrown around. From a design point of view, you might almost be fooled into thinking that people then appreciated design better than they do now – but it was all about showing off. Today, people really need design based on what it helps them do. Design has come to the fore and a lot of organisations really see its value – and that's where Best Effect comes in."
"Today, people really need design based on what it helps them do. Design has come to the fore and a lot of organisations really see its value."
The Best Effect is, of course, the new Best Design Awards category for which Main was an influential agitator. It is a "business take on what has design done here, what's it unlocked, what's it achieved, rather than what does it look like."
Main's other keen interests have included harnessing talented young designers and putting them to work in effective ways. Ten or fifteen years ago, he says, employee selection might have been about picking the best craftspeople. "Now, effectively, before anything else, we've got to have listeners that are problem solvers that can increasingly work in a really collaborative and fast-paced manner. If you're a really good craftsperson and a stylist but you don't have an ability to communicate – that's a fail. If you don't have empathy for other people and it's all about you – then that's a fail. I look for people that are broad and ambidextrous."
The current crop of talent impresses Main. "They've been open minded, they'll have a crack at anything. They are here to learn. There's also a bit of that classic kind of Gen Y of thing, they want to run faster than maybe they can, but at least they're ambitious, they learn remarkably fast, and are so capable."
And what of Main's work. Any chance of playing favourites? Not really. It's hard, he says, to pull out key works. He enjoyed doing early strategy work around the All Blacks brand.
"I suppose that stands out in some respects, because it is quite nice to work on quiet iconic brands and organisations and really help them. I suppose that its really important to look at lots of other sectors – the power sector, the public service – where we've made massive inroads and transformational change into the way businesses do things. That's all through design thinking and good delivery of a much better experience".
After twenty-four years at DNA, and having witnessed his own industry's transformational change, you get the feeling that design thinking is what it's all about for Main.
"People choose us to help them because we've got particular methods, basic fundamental practises, that involve observing and finding different ways to unpick a problem before building it back up to deliver something – a better service experience, a communication, whatever it may be."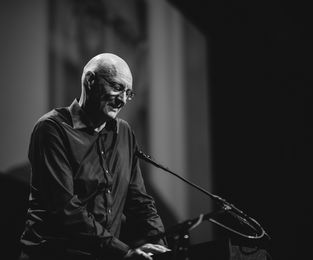 2013
Kent Parker
John Britten Black Pin
Kent Parker, 2013's John Britten Black Pin recipient, has a well-lived life in design. But cast your eye across his Black Pin alumni and you might notice his comparative youth – this is a career with legs left yet.
The young Kent Parker can be found in the Hawkes Bay. He was exposed to the process of 'making' early. His father was handy and Parker had "no choice" but to watch projects go on. Apparently they go on still: "He's 80 and building houses. He can't stop. It's in the blood a little bit. I was exposed to it young."
Hawkes Bay was soon swapped for Wellington. Victoria Uni's School of Architecture called first but two-years later industrial design was discovered and a move to Wellington Polytech was completed. Parker had found his calling.
At design school, Parker's tutors included (Black Pin recipient) Mark Pennington, "a big influence", as were many other staff members. Design school was close-knit and, while studying, Parker found another close-knit team: Richard Taylor – a fellow John Britten recipient – and Tania Rodger. At Weta, Parker was exposed to a philosophy that would percolate throughout his career. "Richard is a passionate man. He had a huge influence on my belief that you can do whatever you want. He has that attitude of being able to take on anything and make it happen."
After design school, Parker headed to Dunedin and a job with Fisher & Paykel. Employed from his graduation presentation, he wasn't particularly enamoured with the big company environment but got a product range through the system in his year there. Europe was next, and employment with a Swiss-German designer, Luigi Colani.
Colani lived in a restored French chateau with the stables converted into a design studio. Parker lived on-site, working across everything from concept trucks to ironing boards. Colani, eccentric as well as eclectic, had few rules. "He asked me to go to Germany for a couple of days on a project and I ended up living there for two months. I only took clothing in a bag for the two days," he laughs. But the Swiss designer reiterated the lesson of Weta. "Anything was possible. It made me realise that if you want to do something then get off your butt and do it."
Parker returned to Wellington and worked on Lord of the Rings for a year, but it was a "young man's game" and he wanted to do something that lasted longer.
Cue Formway, where he certainly found longer projects. Four years is the average period from concept to completion at the company. Parker started as a designer, before leading projects and, eventually, with long-term collaborator Paul Wilkinson, running the company.
"Anything was possible. It made me realise that if you want to do something then get off your butt and do it."
Product design can be a risky business. Hum, a desking system, "was, and is, a very good product", but the licensing and distribution channel weren't as good as they could have been. "When a product doesn't fly like you think it will it can have a huge effect on your business… You've got to get the right partner or all sorts of things can happen."
Formway's "right partner" was Knoll. How did a Lower Hutt design studio form a tight relationship with a renowned international player? Chutzpah? Self-belief? "All of those companies are open to good ideas. Don't be afraid to talk to anyone about what you've got if you think it's worth something – they'll be interested."
The development of 'Generation', the Formway/Knoll collaboration that sold 120,000 units in 2013, gives good insight into Formway's ethos of engineering and observation, sustainable design-thinking and delivering on a real need that helps people achieve real benefits.
The company had found itself at an "awkward scale" – too small to deliver a global product, but needing to do a global product to beat the global players in its own market. It decided to develop the best product it could, fully aware that it wouldn't be able to tool it and without the distribution channels to get into a global market. It had, however, identified a number of companies that could, and Knoll was one of them. Andrew Keogh, Knoll's CEO, was impressed enough with his taster to jump on a plane. The rest is history.
Formway today, under Parker and Wilkinson, is focused solely on seating. It has just released a reclining chair for Natuzzi, and Parker, I suspect, is becoming interested in products with longevity; classic things his children might appreciate. Does he see himself doing anything else? "I've dreamt a number of times about throwing in the commercial side and buying an old milk factory in Taranaki. Just making furniture and selling it." A dream on hold. And what of his Black Pin – where does that reside? "It's in a box on my desk – I think. New Zealanders aren't very good at receiving things like that. We all expect that it should go to someone else."
Parker is wrong of course. His career has successfully bridged product design, management and strategy. He has advanced New Zealand design at home and abroad. This John Britten Black Pin, in a box, on his desk, recognises his leadership, vision and creativity.
2012
Sven Baker
Designers Institute Black Pin
Sven has worked with Designworks for more than quarter of a century. His significant contribution has helped to develop a design practice with prolific outputs across Designworks' New Zealand and Australian offices. Sven's leadership has seen his team work with New Zealand's best companies; helping to establish strong identities for Air New Zealand, Auckland International Airport, Silverfern Farms, Gallagher Group, Tait Electronics and Kiwibank. Sven's design work has left a indelible mark on New Zealand's visual landscape and has been recognised internationally. Sven's skill is demonstrated through the brands he has had an impact on, helping them to communicate important stories, while enriching our lives with creative visual solutions.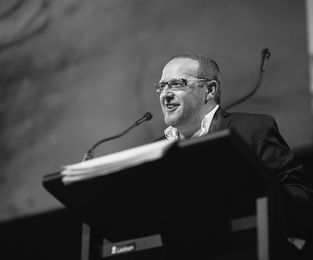 2012
Ian Athfield
John Britten Black Pin
Ian Athfield has won a string of awards, more than 100 at the last count. In 2004 he was the recipient of the New Zealand Institute of Architects' highest honour, the Gold Medal and from 2006-2008 he was president of the NZIA. In 2006 he became the first New Zealand architect to be registered as an APEC architect. In 1976 Ath won an International Design competition for housing in Manila. He has been involved in a teaching fellowship with Victoria University and has been a keynote speaker at a number of international conferences.
Ian Athfield has designed some of New Zealand's most distinctive buildings, including Telecom building and Civic Square in Wellington, the library with its sculpted nikau palms, Adam Art Gallery at Victoria University.
But undoubtedly, his lifetime's project has been Athfield House, perched on and spilling down Khandallah Hill like some 21st century crusader fortress, where up to 25 people live, and up to 40 people work. Athfield House is one of the most defining sights as you fly into Wellington – it looks amazing from the air, and of course from the ground.
The Designers Institute honours Ian Athfield's visionary thinking on how urban spaces are used, how we live and how we should be designing our cities. As Ath says, often the space between a building is more important than the building itself. Ath believes that in a house you should get a surprise every time you turn a corner or look up. Certainly, people do when they visit Athfield House.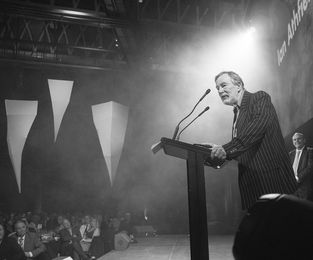 2011
Fraser Gardyne
Designers Institute Black Pin
The Designers Institute Black Pin for Outstanding Achievement is granted to an individual, who, as a member of the Designers Institute of New Zealand, has made a lasting and valuable contribution to the design profession and to design in general.
The recipient of the 2011 Black Pin for Outstanding Achievement is Fraser Gardyne, principal of gardyneHOLT and past president and current Fellow of the Designers Institute of New Zealand.
As a graphic designer for more than 30 years, Fraser Garydne has made a significant contribution to New Zealand design. His first job was as a book designer for Reeds and after that job he joined the design company that became Designworks. He became a Director at Designworks before leaving to set up his own boutique design firm, Gardyne Design in 1993. In 2006 he joined forces with Mike Holt and PDF Communications to form gardyneHOLT.
"He is fantastic to work with and he has always had a balanced point of view. He is a strong advocate and spokesperson for designers in general. He works quietly in the wings, and doesn't seek the limelight."
Before the Designers Institute was formed in 1991, Fraser was a founding committee member of the IDA – the Illustrators and Designers Association set up in 1984. The IDA merged with MZSID – the New Zealand Society of Industrial Designers in 1987 creating the Designers Secretariat and Fraser became Councillor of the secretariat.
In 1988 Fraser was on the steering committee for the inaugural Best Design Awards. He was vice president of the Designers Institute in 2003 and President from November 2004 until August 2005.
Fraser and then President and now CEO of Designers Institute, Cathy Veninga, worked hard to lift the prestige of the Best Design Awards and invited then Prime Minister, Helen Clark to present the John Britten Award in 2004 and 2005.
Fraser has acted as the graphics convenor of the Best Design Awards since 2003, a challenging category to judge as it is by far the largest of the four disciplines. He has been a member of the steering committee and a judge of the Pride in Print Awards since 1993 and was also selected as one of ten international design judges for the WOLDA09 worldwide logo design competition judged in 2010.
Cathy Veninga says Fraser Gardyne has consistently supported the Designers Institute in any way he is able to help.
"He has", she says "been a stalwart supporter who has worked hard to develop the Best Design Awards into the prestigious event it has now become. He is fantastic to work with and he has always had a balanced point of view. He is a strong advocate and spokesperson for designers in general. He works quietly in the wings, and doesn't seek the limelight."
His good friend, Designers Institute 2011 president Tony Parker, who is now Associate Pro Vice-Chancellor at the College of Creative Arts at Massey University, classes Fraser as "an all round nice guy" and says "humour and amusement bubble from his soul."
Grant Alexander, director of Studio Alexander, and also Fraser's brother in law says that Fraser has been tireless in his contribution support for the Designers Institute, especially in earlier days when the institute was not well funded.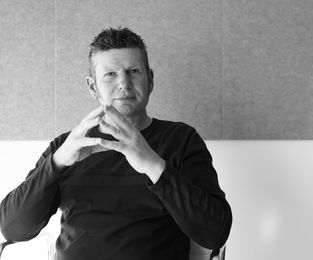 2011
Mark Elmore
John Britten Black Pin
Mark Elmore is Head of Industrial Design at Fisher & Paykel and under his design leadership in the 28 years he has been with the company, Fisher & Paykel has been transformed into a modern, technology savvy, design led company. The first design led product to make a global splash for Fisher & Paykel was the double dishdrawer while other innovative products designed under Mark's watch include the Izona Cooksurface, and also the new OB90 oven.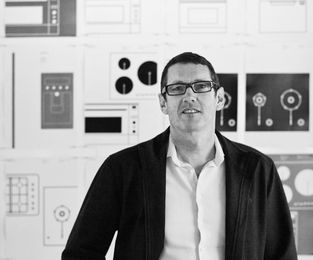 2010
Tim Hooson
Designers Institute Black Pin
Tim is an architect and director of interiors at Jasmax. He is a loyal supporter of the Designers Institute who has previously served on the Institute Council. Tim has been the lead interior architect on some of New Zealand's most admired commercial buildings, such as the NZI Centre in Fanshawe Street, the Vodafone Building in the Viaduct, and the BNZ Centrecourt in Wellington and his own home Icestation won a Gold at the 2007 Best Awards.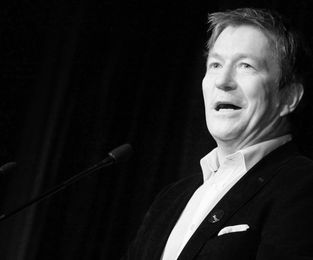 2010
Dean Poole
John Britten Black Pin
Over the last decade he has built up a successful design team of 17 and led them to numerous national and international awards. And he's no stranger to the Best Awards stage, being the previous recipient of two Stringer awards. Dean has made a significant contribution to the New Zealand design industry over the last 10 years.
He has been a formative influence in the Design in Business Awards, run by the Institute, from helping to form the objectives through to the awards criteria and the Design in Business brand. Dean has also played a key role with New Zealand Trade and Enterprise's Better by Design programme since its inception in 2004.
He has been an enthusiastic and articulate supporter of the Designers Institute and has toured the country speaking at Designers Institute events. Over the years he has been an enormously positive influence at Institute meetings and gatherings. He has always given generously of his own time to the Institute and has supported two members of his team to play an active role on the Board. Dean has also undertaken the new visual identity of the Designers Institute and the Best Awards. In August this year Dean was made a Fellow of the Institute because of his valuable contributions to the Institute.
Dean is a frequent keynote speaker at local and international conference, including Semi Permanent, AGIdeas and AGDA National Conferences.
He has been awarded some of the highest accolades in the international design world. Since 2005, under Dean's creative direction, Alt Group has been recognized in over 200 national and international awards, including a Cannes Gold Lion, ADC Gold Cube, Webby Award, and the Red Dot Grand Prix in Germany last year.
Dean is a visionary design leader, a champion of creativity and design thinking and a passionate advocate of New Zealand's future as a design-led economy.
Above all, Dean Poole strives for design excellence and strategic innovation.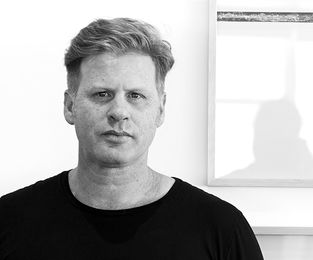 2009
Dave Clark
Designers Institute Black Pin
Dave has worked with many of New Zealand's largest companies. Among the many high profile design projects Dave has worked on are the All Blacks Silver Fern logo, and a rebranding of Air New Zealand. He has worked across design boundaries in corporate identity, branding, print collateral, packaging and new media. Dave focused particularly on the financial services sector, helping to deliver many successful annual reports and prospectuses over the years.
As well as being a talented design principal, Dave is also an astute businessman who understands the role of design in business. He has also fostered young design by hiring graduate designers straight from tertiary institutions, many of whom went on to have successful careers, often with Dave Clark Design.
Dave is a fellow of the Royal Society of Arts, London and an honorary associate from the Auckland University of Technology. Through his involvement with DINZ over many years and in numerous roles including council member and treasurer, Dave has worked tirelessly to foster and develop New Zealand design culture. He was president in 1998 and again in 2001, where his financial acumen helped greatly to knock the DINZ finances into a healthier shape. He gave his time and expertise to developing a strong financial model for DINZ and helping to establish it on a more professional footing.
He also worked tirelessly as the overall convener of the Best Design Awards from 1997 to 2002, and helped to build them into the fantastic awards programme they are today.
2009
Joseph Churchward
John Britten Black Pin
If you've been to an optician to have your eyes checked or have read the Dominion Post, you'll have come across the work of this year's John Britten Award winner.
He is a man who, through a combination of his innate creative talents and early technical training, has enriched the world of lettering and design, with his contribution extending not just across this country, but around the world. A pioneer and legend in the world of typography, he has dedicated his life to his craft – perfecting it, and in turn, gaining worldwide recognition as a true master. He is, of course, the one and only Mr Joseph Churchward, arguably one of not only this country's but the world's leading typesetters and graphic designers.
Born in Samoa in 1932 (1933 according to his birth certificate – an inaccuracy that Joseph says can be put down to his grandparents registering his birth in the wrong year), Joseph moved to New Zealand at aged 13, later attending Wellington Technical College where he gained an Art Distinction award for his lettering – a passion that can be traced back to his childhood in Samoa, when he would draw letters in the sand.
"His accomplishments are not only significant on a national scale, but place him highly on the global stage. He is a pioneer and I admire his continued dedication to the craft of design. He is a true inspiration."
After graduating from college, Joseph went on to work as a commercial artist, founding his own company in 1969 - Churchward International Typefaces - which became New Zealand's largest typesetting firm. Not long after establishing his company, leading German type company Berthold Fototypes accepted some of his fonts for international distribution, and they were soon in use throughout the world.
His Wikipedia entry says he has created more than 582 original typefaces – each taking between 150 to 300 hours to complete and each done by hand – however, in February this year, Joseph finished his 604th typeface, which is reputed to be more than any other individual in the world.
The quality of his work is reflected in his international reputation, with his work seen on billboards, newspapers, and other printed media around the globe. In 2008, a special exhibition was set up for his art at the Museum of New Zealand – Te Papa Tongarewa and a biography on his life and work was published earlier this year.
One of the DINZ Council members had this to say of Joseph: "When I first became aware of Mr Churchward's accomplishments, it absolutely blew me away as he has achieved so much without any ego and without his name flashing in neon lights."
His accomplishments are not only significant on a national scale, but place him highly on the global stage. He is a pioneer and I admire his continued dedication to the craft of design. He is a true inspiration."
2008
Professor Leong Yap
Designers Institute Black Pin
Professor Yap was the first Professor of Design appointed into New Zealand's academic fraternity. His work in the development of design curriculum, firstly at Massey University and then at AUT University has been pivotal to the long term growth and development of design as an economic force in this country.
Born in Malaysia, Professor Yap was trained as an industrial designer at Wellington Polytechnic and studied for his Master of Science at Loughborough University of Technology in the United Kingdom. He received his Doctor of Philosophy degree from Massey University and is a chartered designer and a certified ergonomist.
After a period of full time design practice in visual communication design, advertising, interior design and product design, Professor Yap joined the Accident Compensation Commission as a designer and ergonomist to undertake product safety research and accident prevention.
Before joining the School of Art & Design at AUT University, Yap was inaugural Professor of Design at the College of Design, Fine Art and Music at Massey University. He was Director of Research, Director of Postgraduate Studies and Head of the Industrial Design Programme for 20 years. His research interests include human centred design, delivering emotional experience and value through art and design, product design and equipment, health care and medical equipment design, ergonomics and accident prevention.
"He continues to work tirelessly to advance design thinking and innovation in design education. "
He has won a number of design awards, including a Feltex Design Award, and in 1991 he was a Sir Winston Churchill Fellow. Professor Yap was a member of the NZ Growth and Innovation (GIF) Design Industry Taskforce to advise the New Zealand Government on design strategy and policy.
Professor Tony Parker, Professor of Industrial Design at Massey University and a member of the Designers Institute of New Zealand's Council, said that Professor Yap had made an enormous contribution to design education in New Zealand, and to design in general.
"He continues to work tirelessly to advance design thinking and innovation in design education. Many of Leong's students are now leading designers in design-led companies in New Zealand and internationally."
Professor Parker said that Professor Yap's involvement has seen him develop a (design in business) Masters programme at AUT University that is "developing the type of graduates that are capable of leading design businesses into the future."
Desna Jury, Head of School of Art and Design at AUT University said that Professor Yap has been an award winning innovator and design leader and academic whose contribution to the design sector spanned 30 years of "exemplary activity".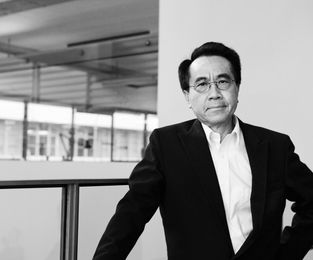 2008
Laurie Davidson
John Britten Black Pin
As a boat designer, Laurie Davidson is best known for his International America's Cup class sailboats which successfully challenged and defended the America's Cup Trophy.
However, throughout a long and illustrious career, he became renowned locally and international for designing racing and cruising boats of many different styles and sizes suitable for serious races ranging from one ton day races through to the America's Cup races. It was his Davidson 28° that brought his name into the households of many New Zealanders and among his best known designs is the VOR 60 Djuice Dragons. In the 1960s Laurie was the most prominent of a group of New Zealand boat designers who began designing keel yachts of an international standard which helped to establish New Zealand's boat building industry and reputation.
Laurie Davidson is now regarded as one of the best America's Cup designers since the introduction of the new American's Cup class in 1990. He also played a role in the design of the New Zealand fibreglass 12-Metre boats (colloquially known as plastic fantastics) that were among the top performers during the 1987 World Cup competition in Fremantle, Australia.
In 1995, Laurie Davidson designed NZL 32 which won the America's Cup in five straight races and in 2000, Laurie was Chief Designer for Team New Zealand, which again won in five straight races against challenger Luna Rosa. While working with One World Challenge he collaborated with the designers, Bruce Nelson and Phil Kaikoo to develop the team's two IACC boats.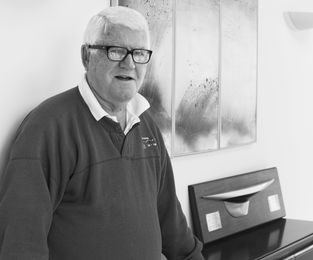 2007
Brian Richards
Designers Institute Black Pin
Richards, principal brand strategist and director of Brian R. Richards, has spent over a decade developing highly effective brand strategies for many leading export brands, regional identities, and major corporate brands in Australasia, Asia and Europe including: The New Zealand Way, Orca, Icebreaker Clothing, Cervena (New Zealand farm-raised venison), Singapore Food Fair, Tower Insurance, Richmond, Holcim (International), Auckland Regional Council, the University of Waikato, Marlborough, Southland and Manawatu.
Reuben Woods, a Council member of the Designers Institute of New Zealand (DINZ) who worked alongside Richards last year on a project for one of his clients, Design Mobel, said Richards' extensive knowledge and expertise of national and international branding made him an "inspiration to any designer developing a brand identity from his strategy."
Mr Woods, who described Richards as an 'authority' on branding said Richards' ability to articulate the essence of how to develop a brand to a congregation of people is "something that should be heard by every designer in New Zealand."
Said Woods: "I recently went to a seminar called 'Brand Building' where Brian spoke about how New Zealand businesses are taking on the world and articulating their own unique New Zealand story through each of their brands. His speech was motivating and inspiring for any business owner. Brian's knowledge and expertise in branding is a real asset to New Zealand."
Fellow DINZ Council member and leading New Zealand industrial designer, Professor Tony Parker, described Richards as a "great ambassador for New Zealand design, who has done an outstanding job promoting the value of design to New Zealand businesses."
"Brian continually demonstrates how New Zealand businesses can present themselves compellingly through design. I was fortunate to have heard Brian speak at this year's Better by Design CEO Summit, and I have to say he was the best speaker in an international line-up. He is a true inspiration."
Better by Design Director, Judith Thompson, said she was delighted to see Richards receive the recognition and that he was a truly deserving recipient of the award.
"Through his unique vision and expertise in brand, Brian has made a significant contribution to many of New Zealand's most innovative companies. Beyond helping to create some of New Zealand's most iconic brands, Brian also plays a vital role in building greater understanding within the business sector of how a well executed brand and authentic story telling creates real value and makes companies more internationally competitive.
Brian is world class and a true champion of the design cause."
"Through his unique vision and expertise in brand, Brian has made a significant contribution to many of New Zealand's most innovative companies."
Jeremy Moon, CEO of iconic New Zealand clothing company Icebreaker described Richards as a "brand visionary."
"In the early nineties Brian forged a new link between the skills of design and storytelling and the business community. He has a great skill in slicing through clutter to cut to the heart of a new opportunity."
Moon praised Richards saying that his knowledge, expertise and contribution to the success of many iconic New Zealand companies made him a worthy recipient of the Institutes' Outstanding Achievement Award.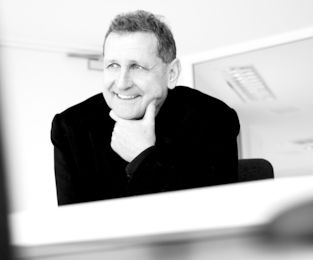 2007
David Trubridge
John Britten Black Pin
David Trubridge is a true advocate of the New Zealand design industry, who has dedicated much of his time to nurturing young design talent, while at the same time achieving international success and recognition for his own remarkable designs. He is someone who has played a significant role in putting NZ design on the map and who has long spread the gospel of sustainability.
David graduated as a Naval Architect from Newcastle University Britain, but since then he has worked as a furniture designer/maker and architect. He settled in New Zealand after a long yacht voyage with his family.
He is New Zealand's best known furniture designers and regularly exhibits overseas in Australia, North America, Europe and Japan.
In the last few years he has exhibited at 100% Design in London, six times at the Salone del Mobile in Milan, and three times at ICFF in New York. His 'Body Raft' design is currently being manufactured by Cappellini, and was voted 'iconic' by Urbis readers.
In New Zealand he has set up his own manufacturing workshop and the Cicada incubator for design graduates. He was one of the Antarctic Arts Fellows who were selected to go to Antarctica in the austral summer of 2004/5, which has led to a whole new emphasis on sustainable design in his work, and an awareness of both the moral responsibilities and the enormous opportunities for today's designers.
Claire Mora, owner of Essenze and a friend of Trubridge's said "David has enriched my life, as he has enriched many other peoples' lives around the world. With his constant questions of: 'But why?, Can't we?, Must they?, he drives me crazy at times, but he makes me question things previously taken for granted or ignored."
There is a never ending source of creativity and energy in David as seen through his designs. If he only touches a small number of people through this, he is achieving this goal and serves as an example to us all.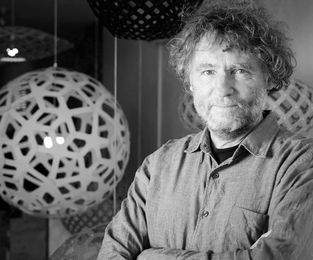 2006
Grant Alexander
Designers Institute Black Pin
Grant returned to Wellington in the 70's after working with David Hillman on Nova magazine, the iconic London lifestyle magazine, to take up the position of art director at the Listener. For his sins he was given the responsibility of keeping contributing cartoonists Tom Scott and Burton Silver in line (and tone). He pushed the conservative Listener hard to improve editorial design standards battling a mindset that only recognised the power of words. Grant gave many photographers, kiwi illustrators and designers their first national exposure.
He met up with Ray Labone while at the Listener and later joined him in a graphic design collective where Grant secured publication design contracts for the New Zealand Wool Board's 'Natural Choice' magazine and Hand knitting yarn company Crucci. Grant travelled the country and abroad on fashion shoots, in the company of attractive models and the photographers Sal Criscillo and Des Williams, who epitomised the image of the 70's fashion photographers. Between them they managed the unlikely achievement of making women in cardies look sexy.
He joined Ray Labone in the Publication Graphics partnership which was successful in securing major corporate communications clients such as Fletcher Challenge and Brierley Investments. Publication Graphics changed its name to Designworks and during the 80's corporate boom built a reputation for corporate communications design. In dealing with the CEO Grant would always exercise strong belief in his opinion based on his experience and skill. Grant could never be accused of rolling over to please the customer. He would stand his ground in the face of powerful men and as such earned their respect.
The rapid acquisition and growth period of the 80's led to many changes of ownership and name in the New Zealand corporate world and the corporate identity design business flourished. With Grant's input Designworks extended its reputation from corporate communications design to corporate identity, later moving on from corporate Identity to brand identity. While it was doing so Designworks was adding offices in Auckland and Sydney. Grant was manager and creative director of the Designworks Auckland office for a number of years.
Throughout his time with Designworks Grant was the driving force for design standards and professional development. He encouraged all Designworks design staff to become members of DINZ and to support their profession. He made it his business to ensure young designers received effective professional development and was responsible for hiring and developing some of the best designers in the business. Indeed throughout his career Grant has campaigned tirelessly to ensure design achieves high professional standards and that it gains recognition as a strategic business discipline.
Grant left Designworks in 1999 to establish the family design practice Studio Alexander. He has been a DINZ Council member and was twice convenor of the Best Awards. In 1992 he was made a Fellow member. He has won numerous design awards and continues to work at the cutting edge of the profession in both a creative and strategic role.
2006
Gary Paykel
John Britten Black Pin
Gary commenced employment with Fisher & Paykel in 1960, initially in whiteware manufacturing at Mt Wellington. He then transferred to Sales and, from thereon, worked his way up the ladder into new roles and served in many other Divisions of the company.
Gary was appointed Managing Director of Fisher & Paykel in 1987. In 1989 he was appointed Managing Director & Chief Executive Officer, a position he held until 2001, when he retired from executive duties. In November 2001 Fisher & Paykel Limited split into two separately listed companies, Fisher & Paykel Healthcare Ltd and Fisher & Paykel Appliances Ltd, and Gary continues as Chairman of both companies, still maintaining a very active interest in both.
People working with Gary at Fisher & Paykel report that he is a great motivator, who has the ability to build a design culture around sustainable points of difference.
During Gary Paykel's executive leadership period at Fisher & Paykel, the company was transferred from a local domestic appliances manufacturer and importer, into a truly global company - which today has a turnover of more than $NZ 1 billion, exports to more than 80 countries and employs in excess of 4,000 people worldwide.
Under Gary's leadership, as well, the company developed a number of innovations that included in 1985, the ECS, or electronic control systems washing machine, which was launched after five years of intensive development. This washing machine no longer had the traditional gearbox of alternative models.
Other product innovations include the Respiratory Humidifier, from the Healthcare Company. Also, the DishDrawer, from the Appliances Company - which is not a dishwasher, but is a drawer that washes dishes. The DishDrawer has been a platform for entering the UK, European and Middle East markets.
What's more, Gary is no idler as a sportsman. He completed the trans Atlantic leg of the 1989/90 Whitbread Round the World race on the boat 'Fisher & Paykel New Zealand', and is now a director of Emirates Team New Zealand.
DINZ applauds the F&P design values of style, integrity, care and innovation and we would also like to pay tribute to the fact that the company has certainly been an incubator for young designers, who have gone on to excel in the industry in NZ and overseas.